Regular price
$24.99 USD
Sale price
$21.99 USD
Unit price
per
Sale
Sold out
Order A Sample Of Dakota Tin Here
Add a little rustic, industrial style and contrast to your ceilings or walls with these reclaimed, corrugated tin ceiling tiles salvaged from Midwest barns.
Because of their salvaged state, expect these barn tin ceiling tiles to have imperfections, some wear, and a lot of character. Some tiles even have old barn roof manufacturers' logos on them. 
About Corrugated Tin Ceiling Tiles
Perfect for bars, industrial lofts, man caves, and rustic-style kitchens or dining spaces.
These rustic ceiling tiles are easy to install thanks to their precise shape and half-inch thickness.
The price listed includes one (1) 23.625" X 23.625" Corrugated Barn Tin Tile.
Works perfectly with any 2'x2' drop ceiling 15/16" T bar system ceiling grid, including our innovative direct mount J-Track grid system.
100% satisfaction guarantee with all Dakota Tin products. You'll find exceptional customer service from an all-American company.
**Real metal tiles - leather gloves required when handling**
Want to add a sealant to your tiles? Just check the box to add an organic metal sealant to your reclaimed barn tin tiles for $4 more per tile. Many people have asked for a sealant solution for Dakota Tin products and we are happy to now provide that as a custom add-on.
This organic linseed sealant creates a simple shellac that coats the metal's surface. It helps prevent additional rust by creating a film that prevents water and air from reaching the metal. It also helps add a level of shine to the metal.
Call us at (800) 670-5798 or email us at info@dakotatin.com to add-on sealant to your items.
Want the rusted look without unique nail holes and high rust variation? Check out the Colorado Rustic Collection's "Rusted" style.  

Instructions On How To Install Dakota Tin Ceiling Tiles
Installing metal ceiling tiles can be a simpler process than you would expect. With a 15/16 " T-bar ceiling grid already in place, many times it just requires sliding the tin tile into place.
See more details in our ceiling tile installation guide.
 Remember to always wear strong leather gloves when working with Dakota Tin products as they are real metal pieces!
Need to cut down Dakota Tin tiles for smaller areas and edges? See how easy it is and the tools you will need below in this helpful how-to video.
Instructions On How To Cut Tin Ceiling Tiles
Dakota Tin Tiles Patina Options
Random Mixture: Offer the most contrast between cool, darker grey/blue coloring and warm, orange/brown rust coloring. It is a mix of majority rust, majority galvanized, and partial rust. Our most popular style, random mix is recommended for large projects. It is not recommended for small projects due to the large variation between pieces.
Majority Rust:

The majority of each tile will have

warm, orange/brown rust coverage and coloring.

Majority Galvanized:

The majority of each tile will have cool, darker grey/blue antique galvanized coverage and coloring.

Premium:

This tin is the best we find. Each piece is a nice mix of rust and galvanized that can only be created from natural weathering. It is also flatter with less warping. Recommended for smaller applications.
Environmental Benefits of "Upcycled" Barn Tin Ceiling Tiles
The Dakota Tin Collection was founded from a desire to add a real, rustic, antique, vintage, and industrial look to homes or businesses. Because they are salvaged from Midwest barn roofs and machine sheds. These corrugated tin tiles are upcycled - not recycled.
Our reclaiming process saves energy and keeps materials out of recycling centers and landfills. With recycled items, the raw material (glass, metal, paper, rubber, etc.) is broken down and reshaped into an original product. Upcycled materials, however, are repurposed products that are not broken down, merely reshaped, or adjusted to suit a different purpose. Recycling is an important practice, but upcycling is generally considered a greener and more environmentally-friendly method.

Share
Shipping & Returns

FREE SHIPPING within the continental U.S. when ordering 3 or more items (excludes custom orders, J-track, trim pieces, and large panels).
Shipping outside the continental U.S.? Contact us for a quote.
For information on Dakota Tin's shipping & return policy, visit the Shipping & Return page.
View full details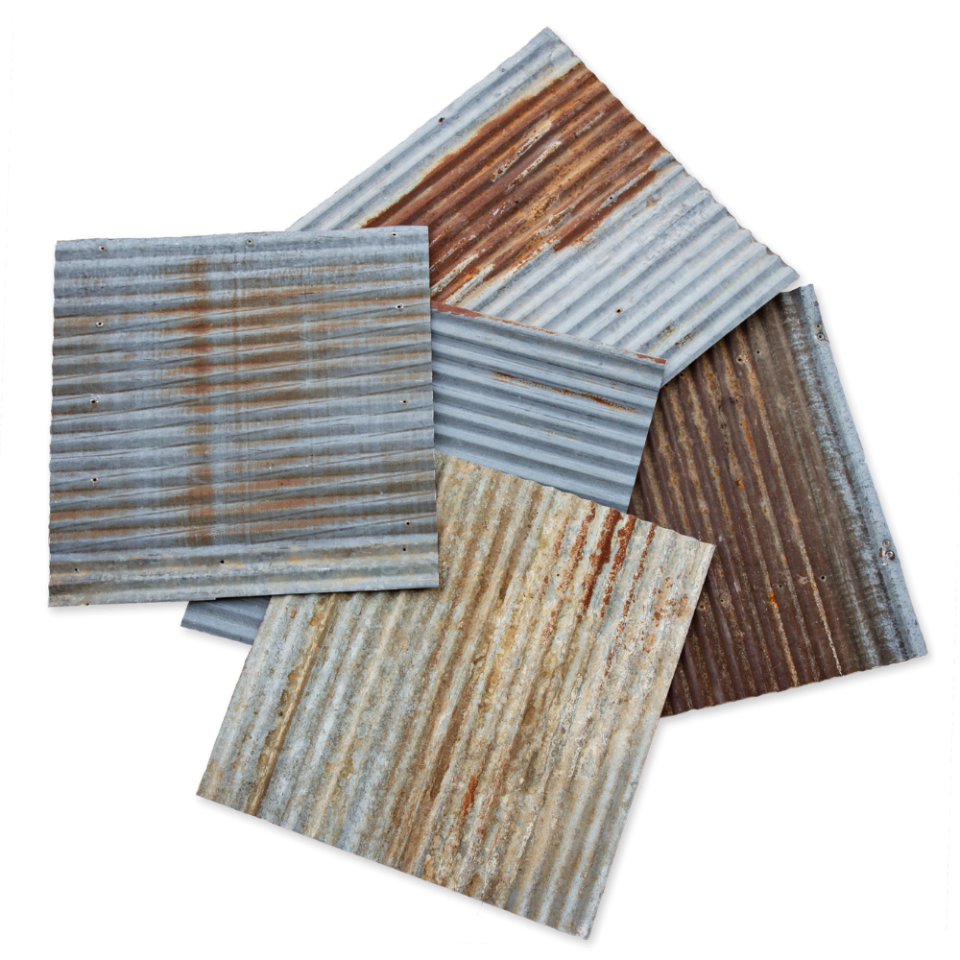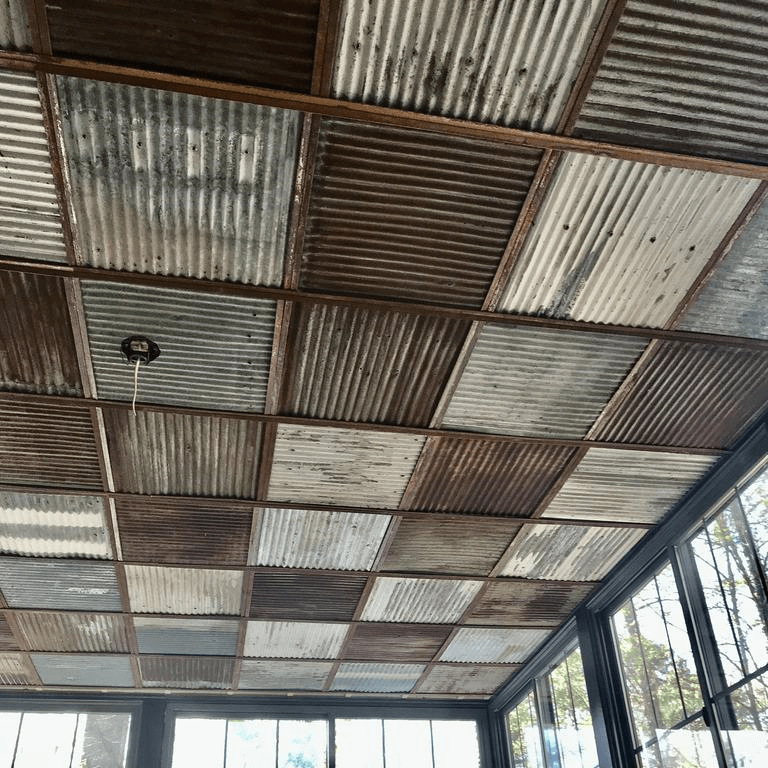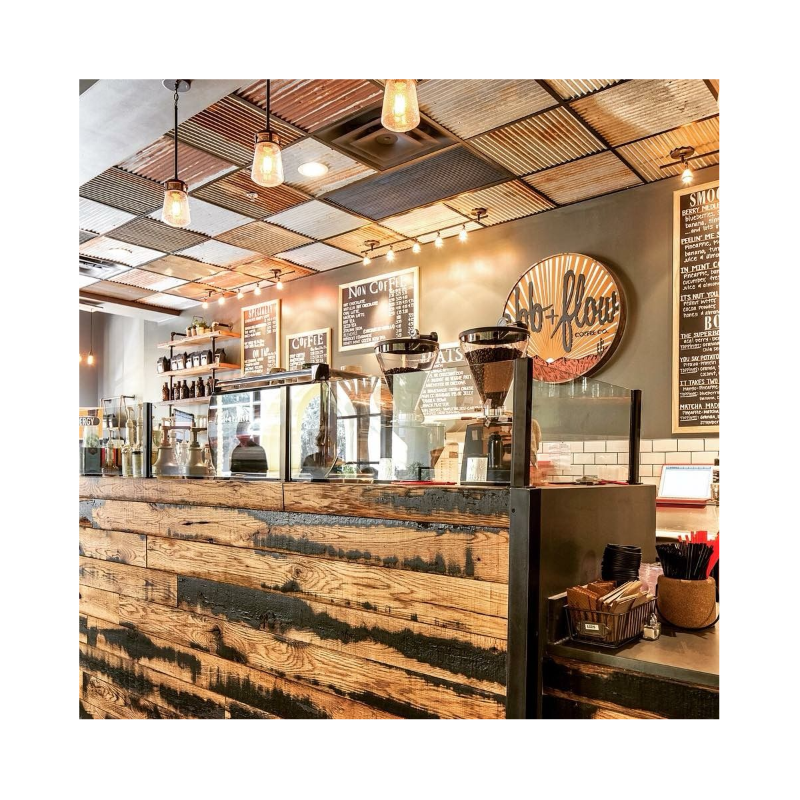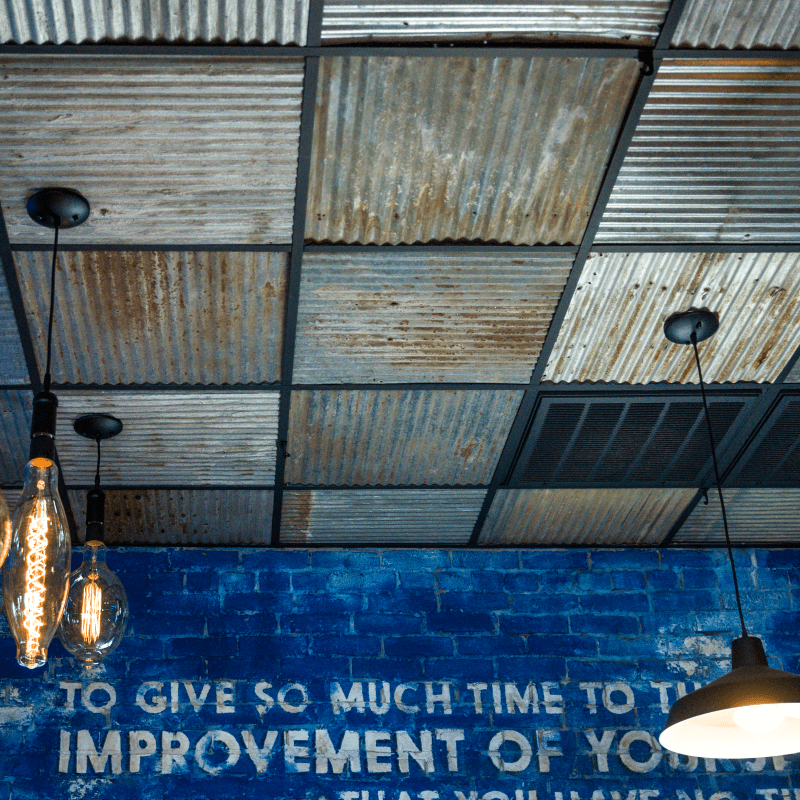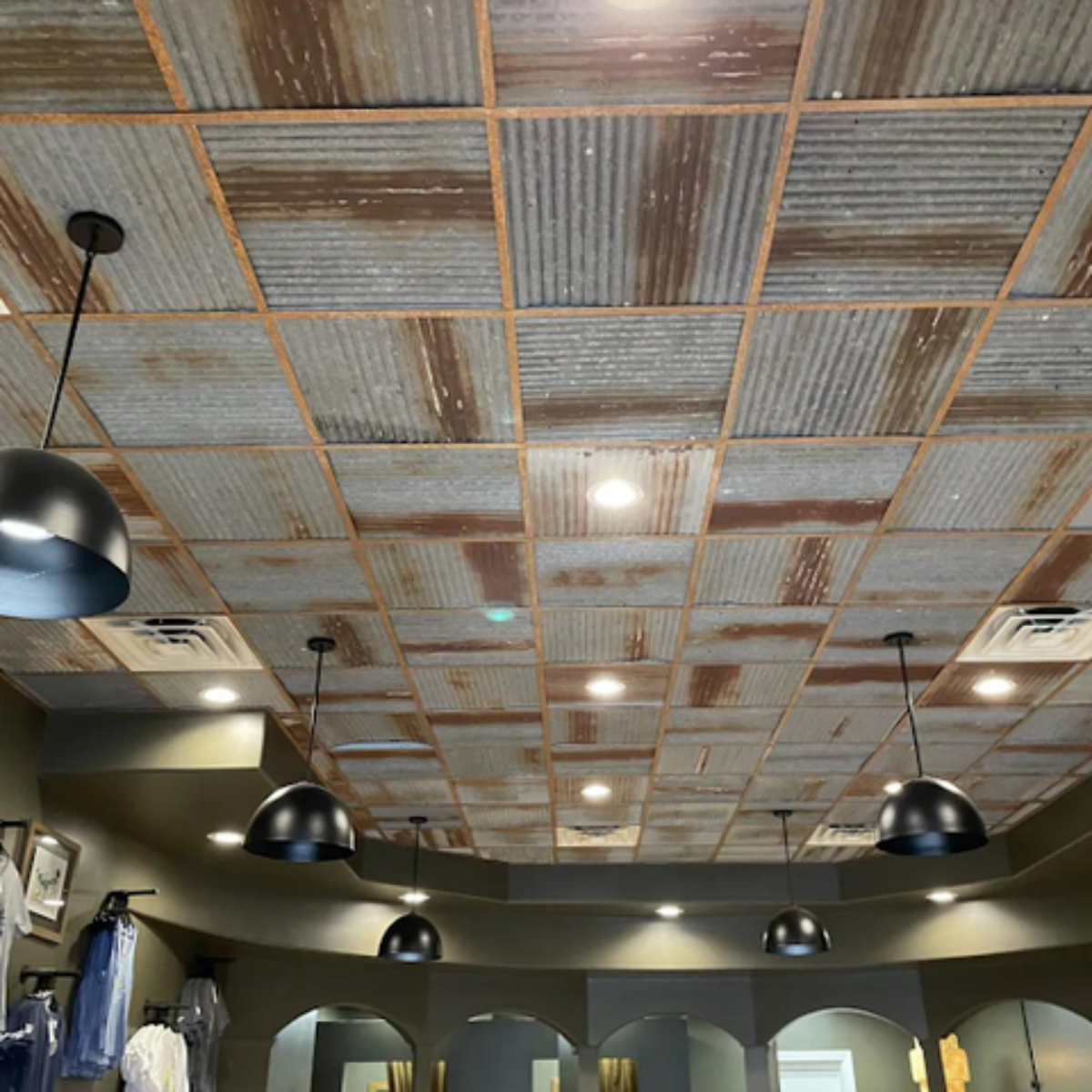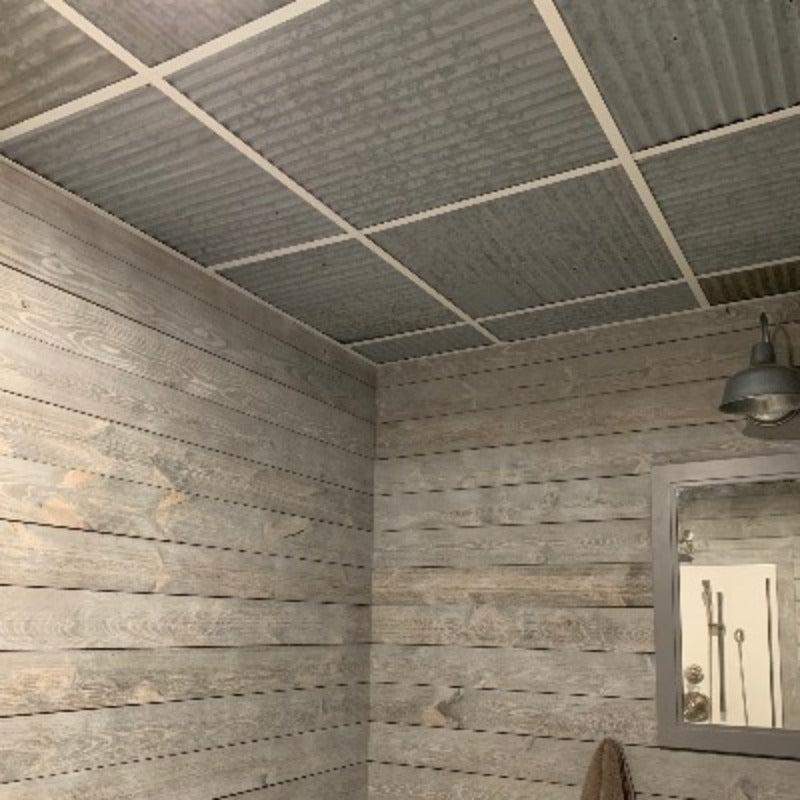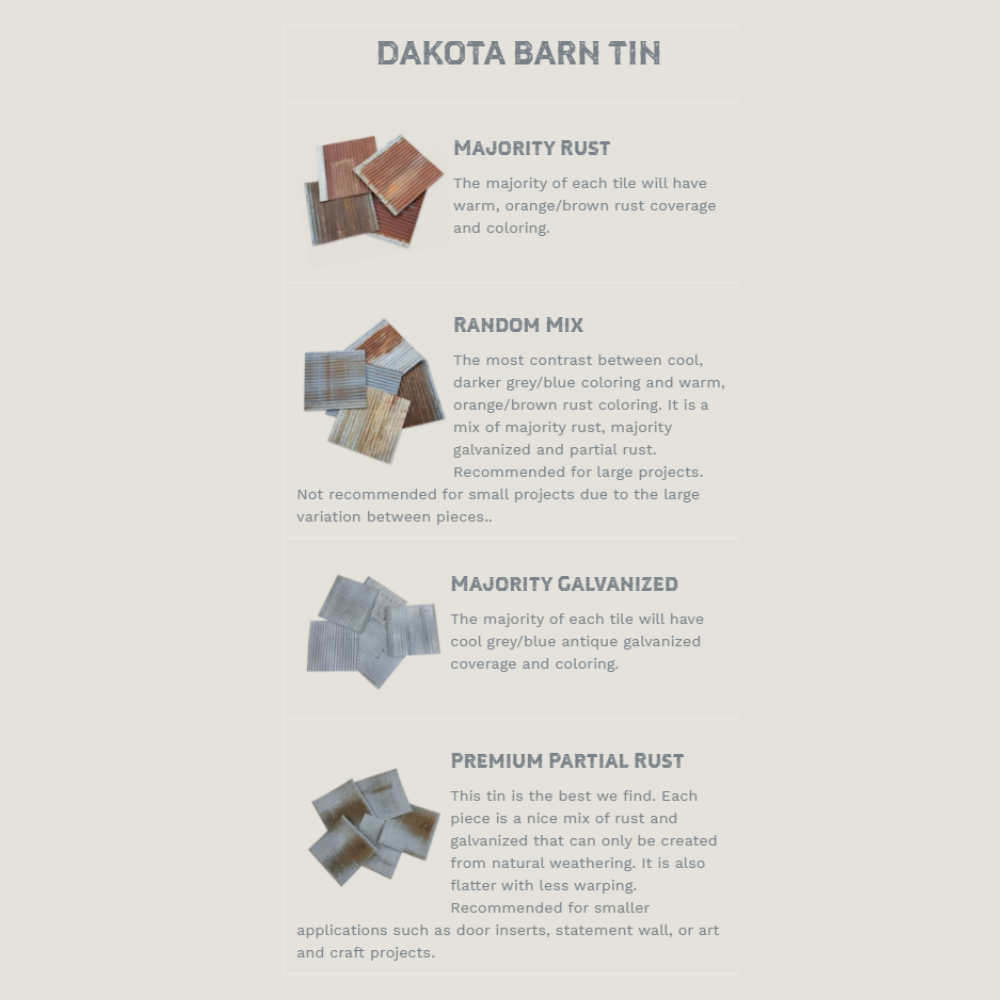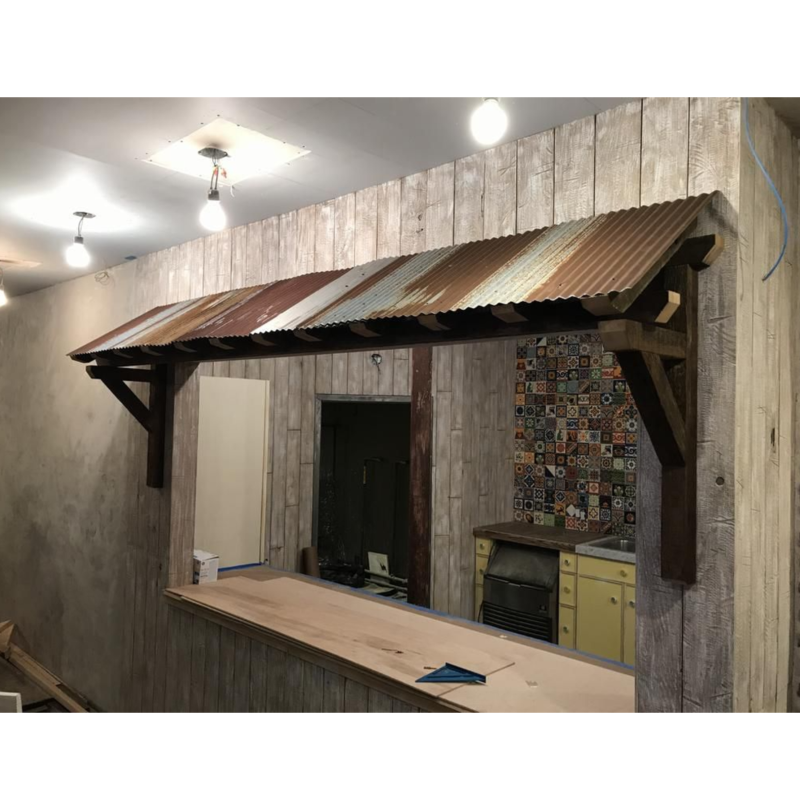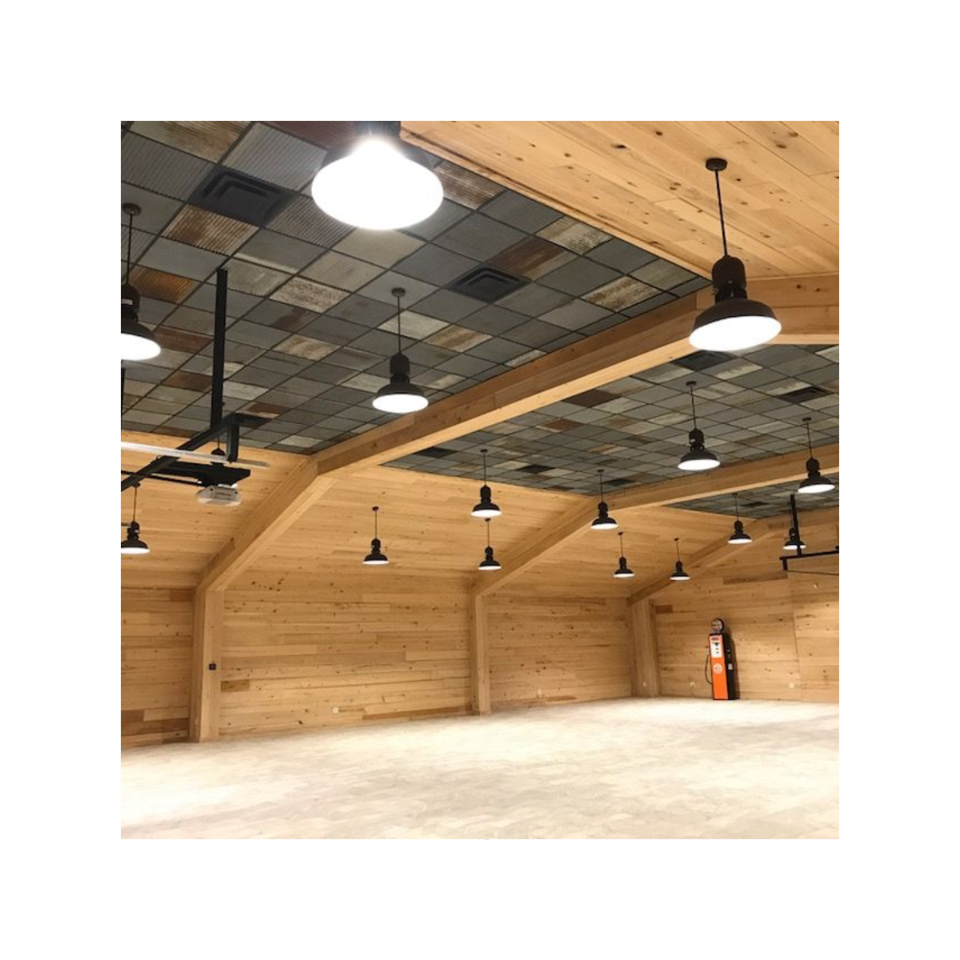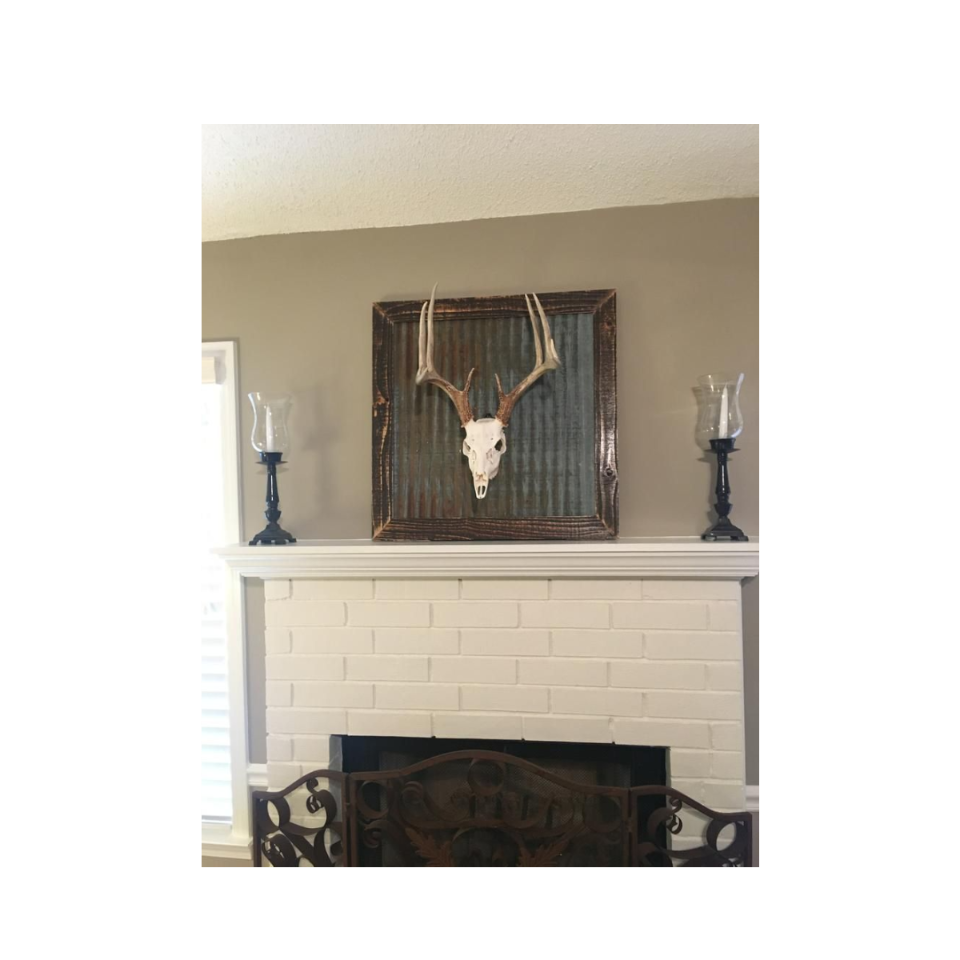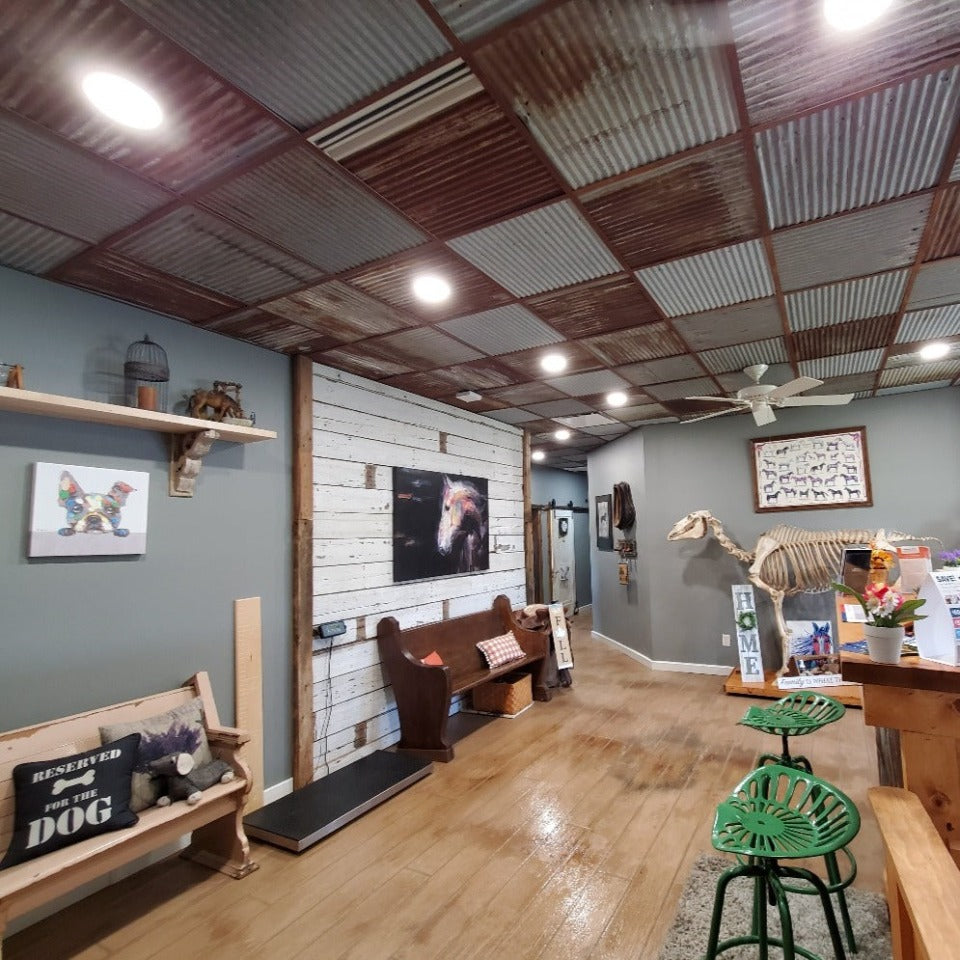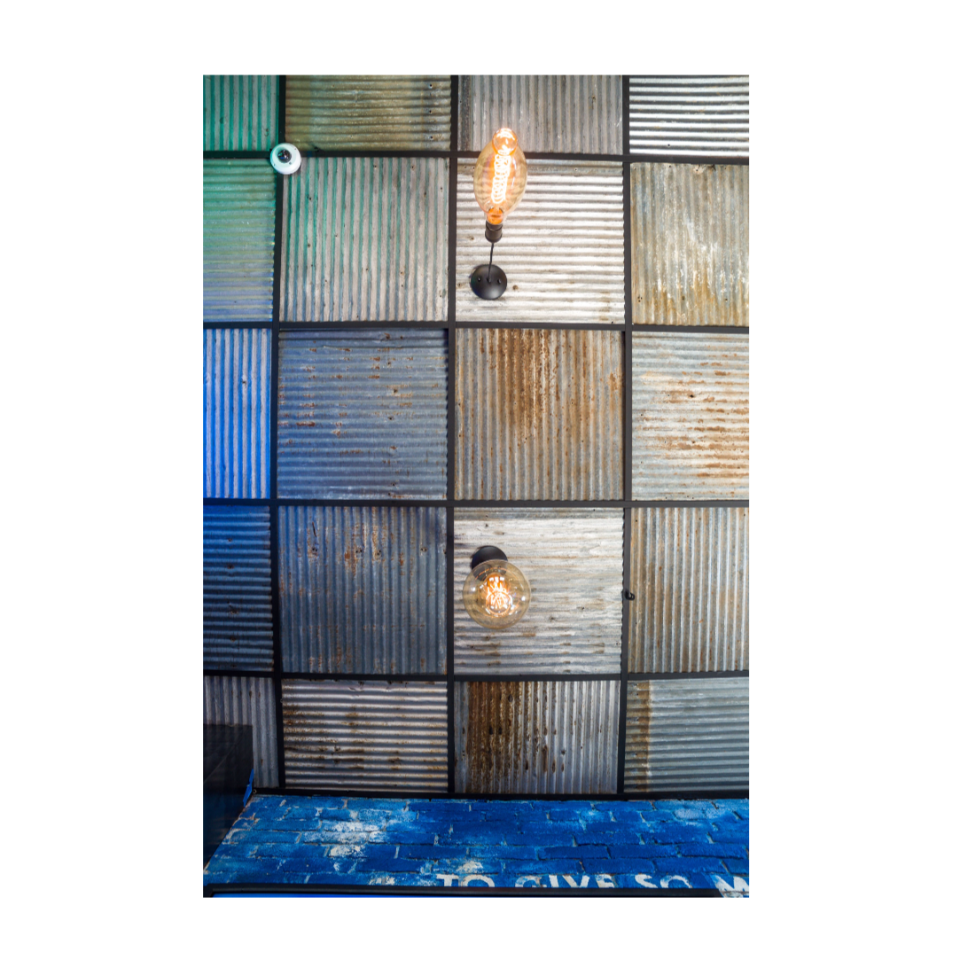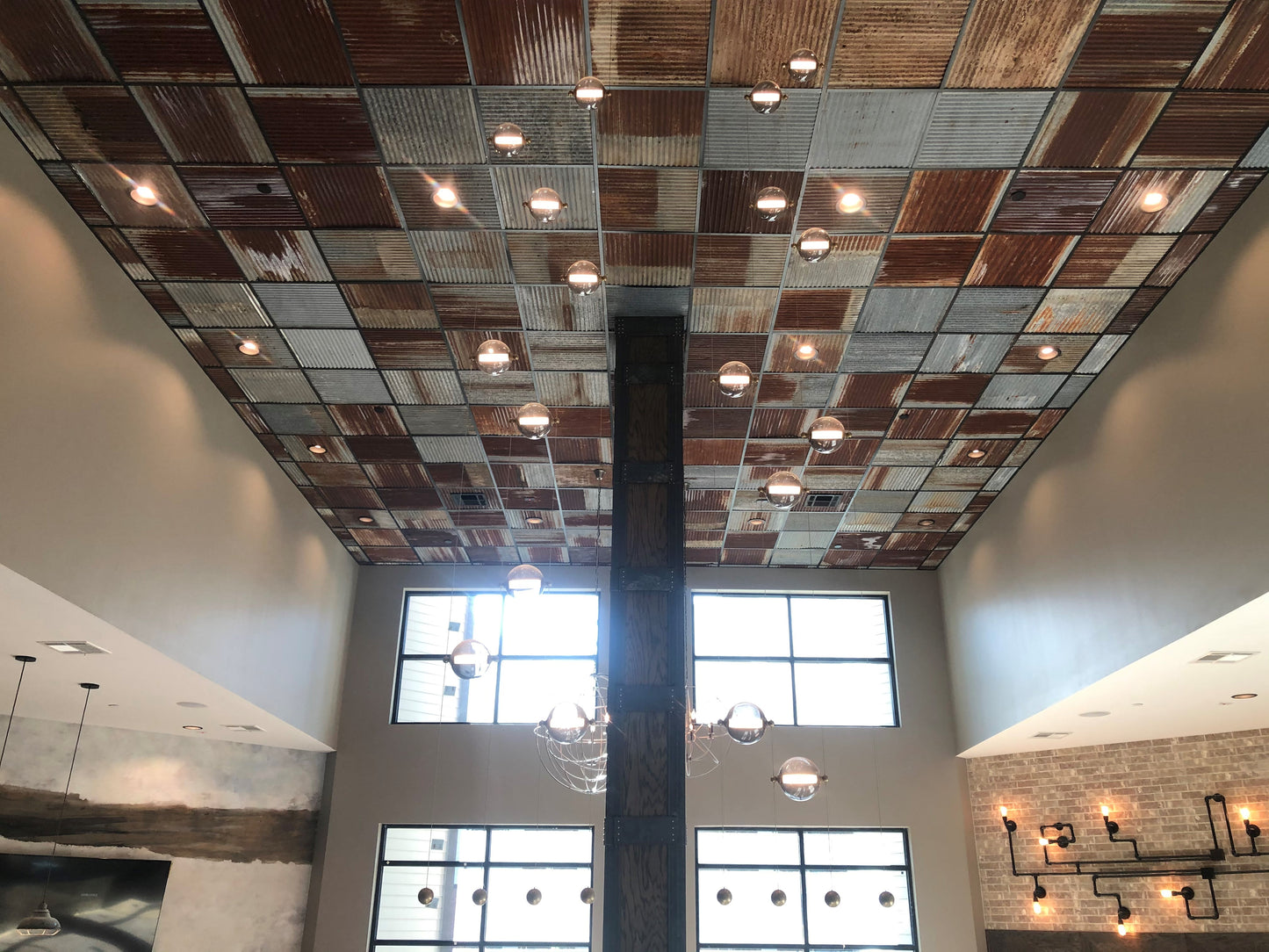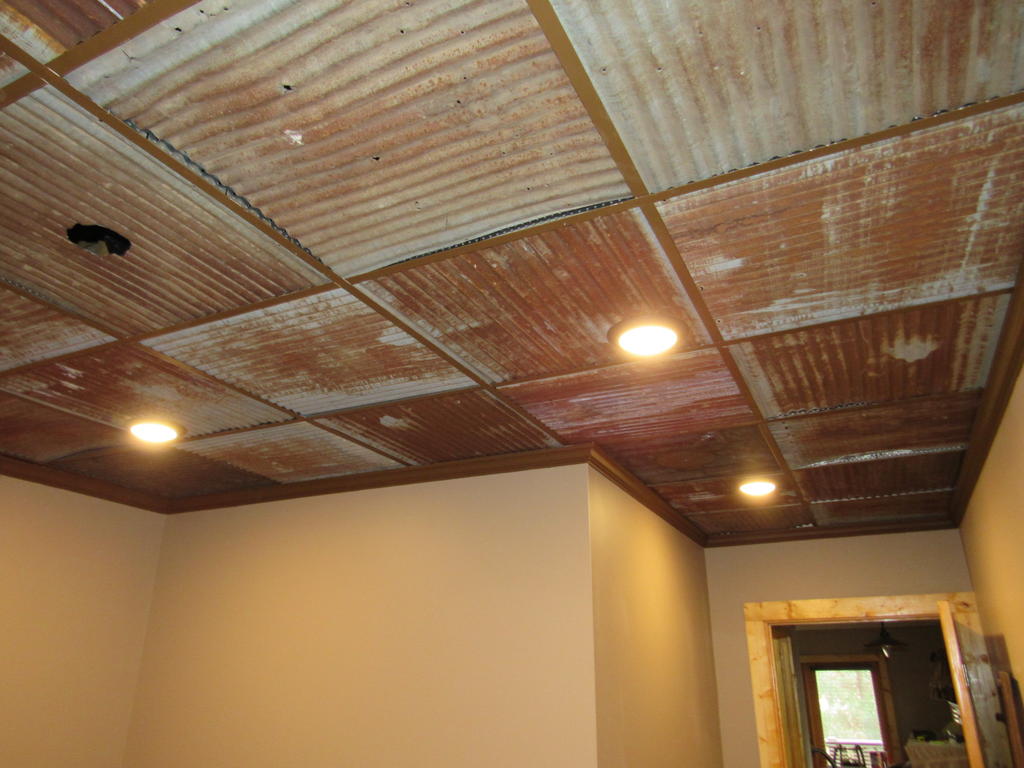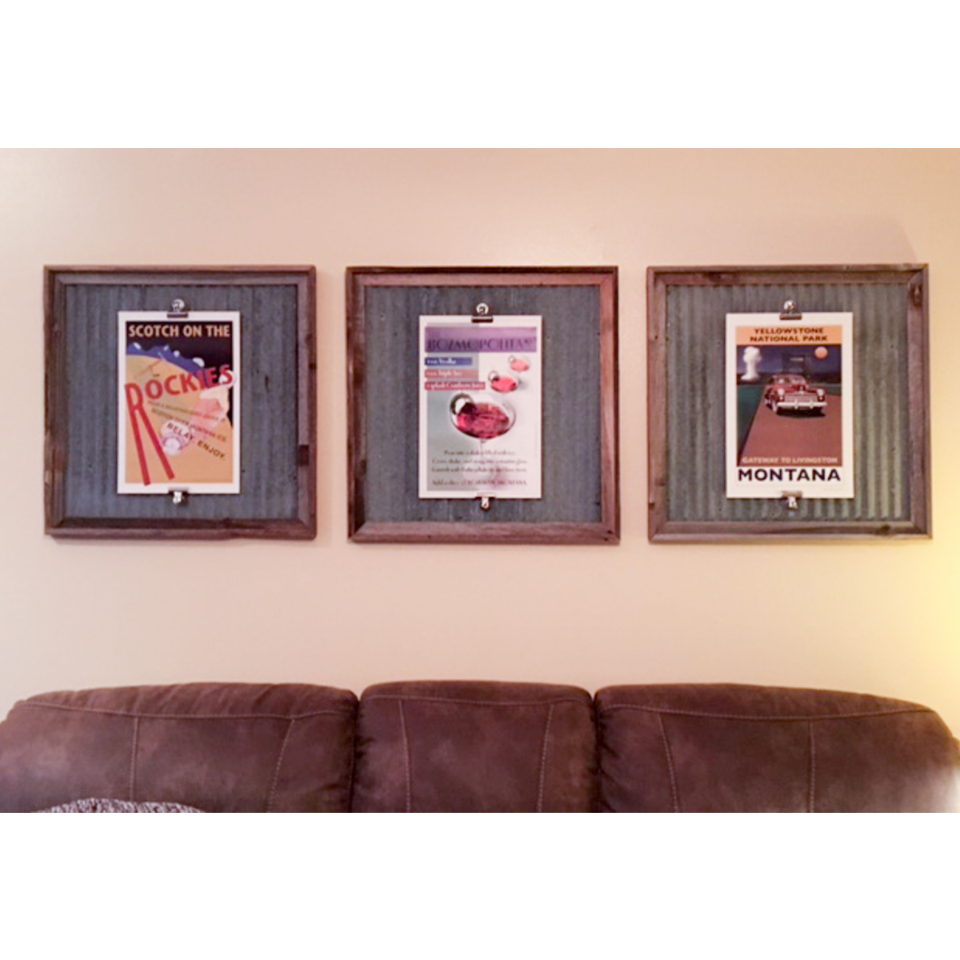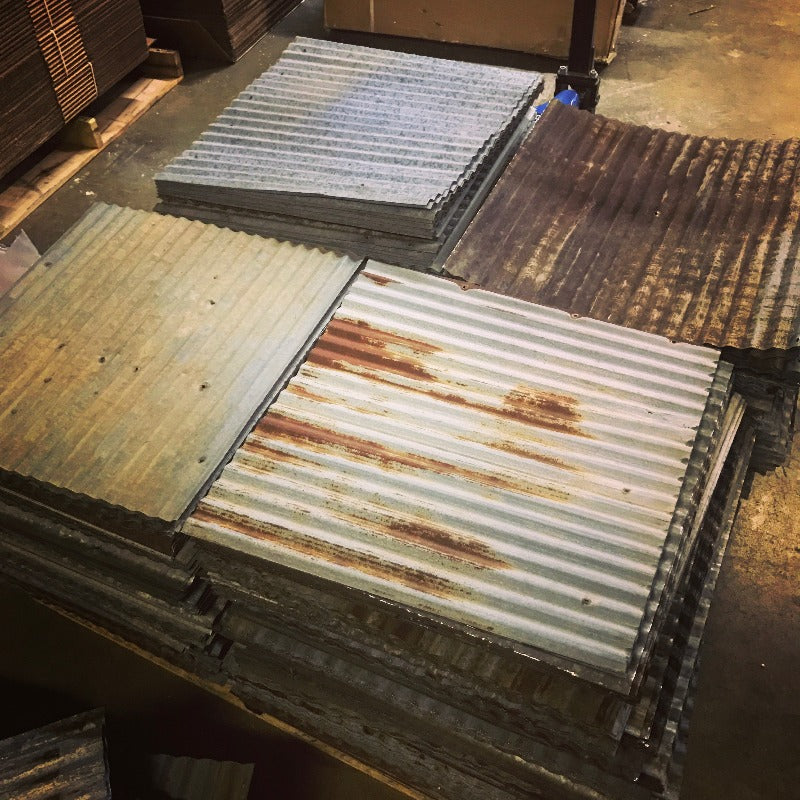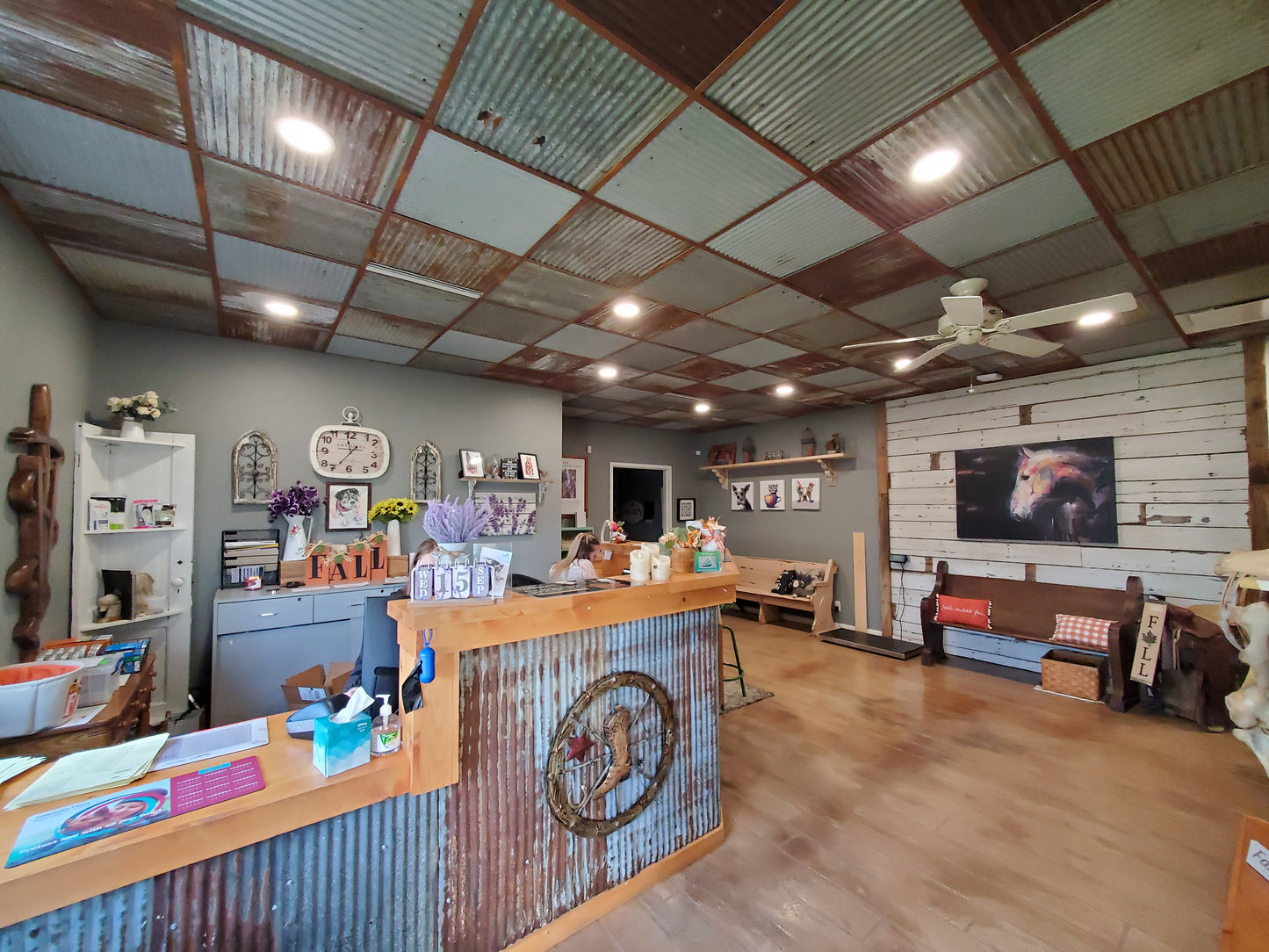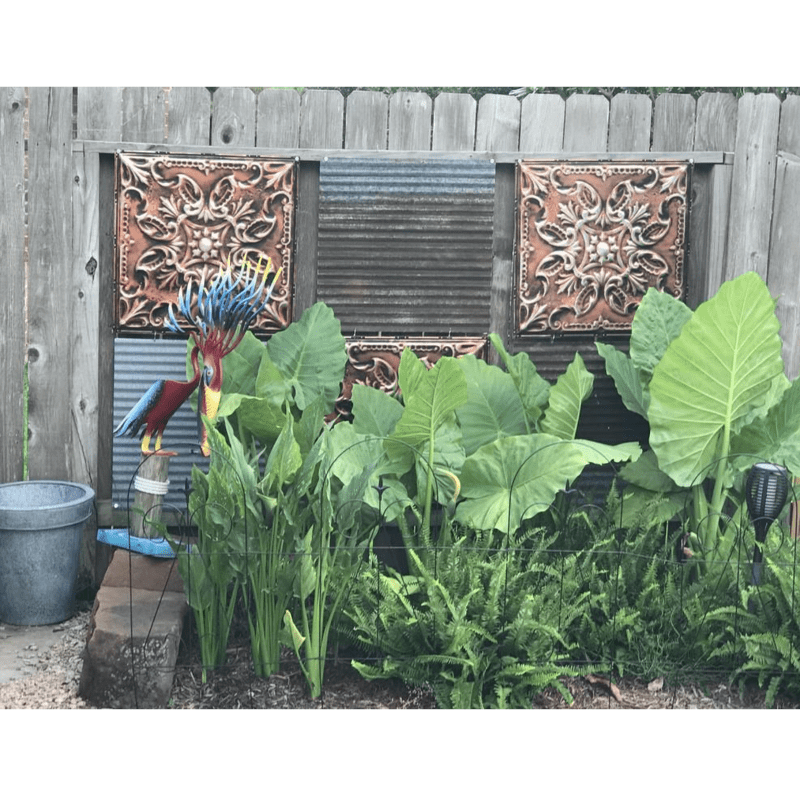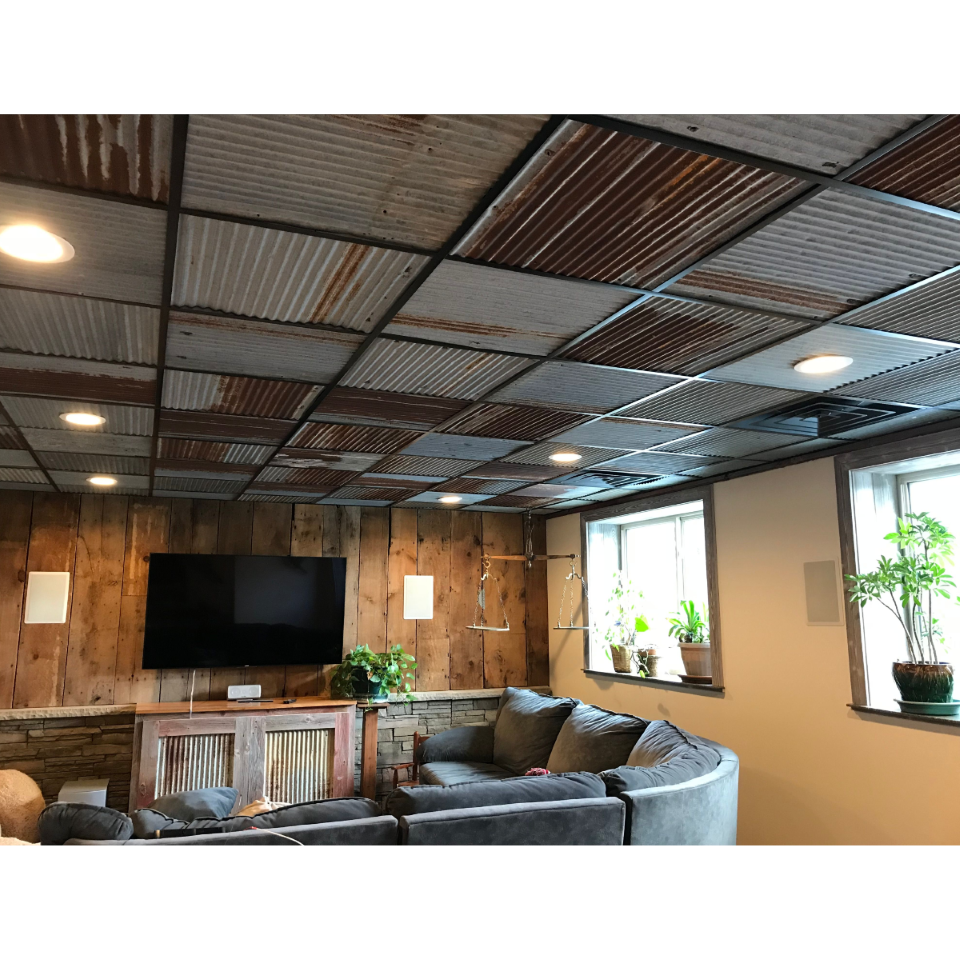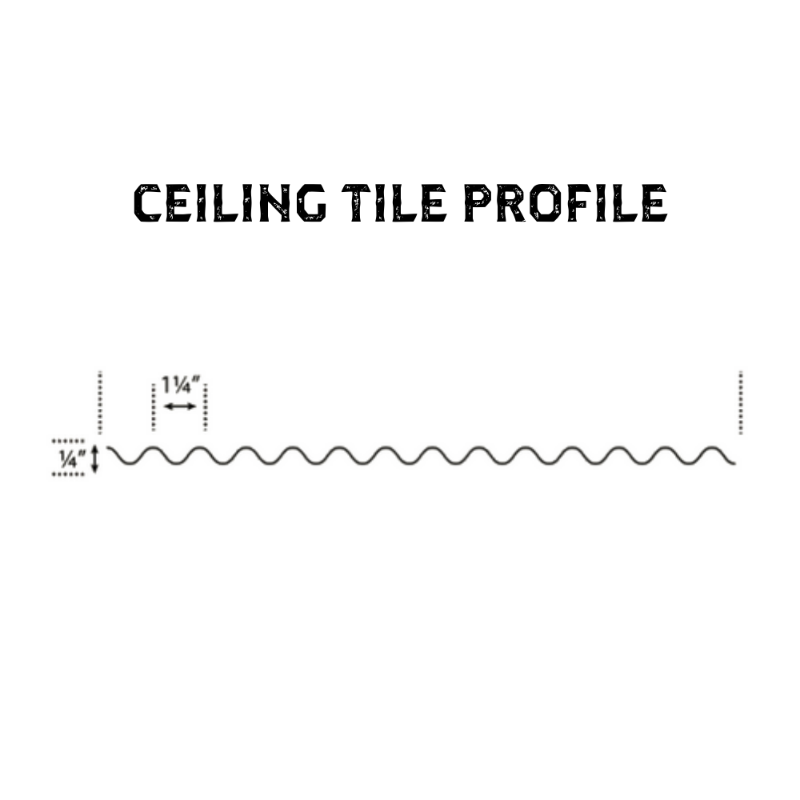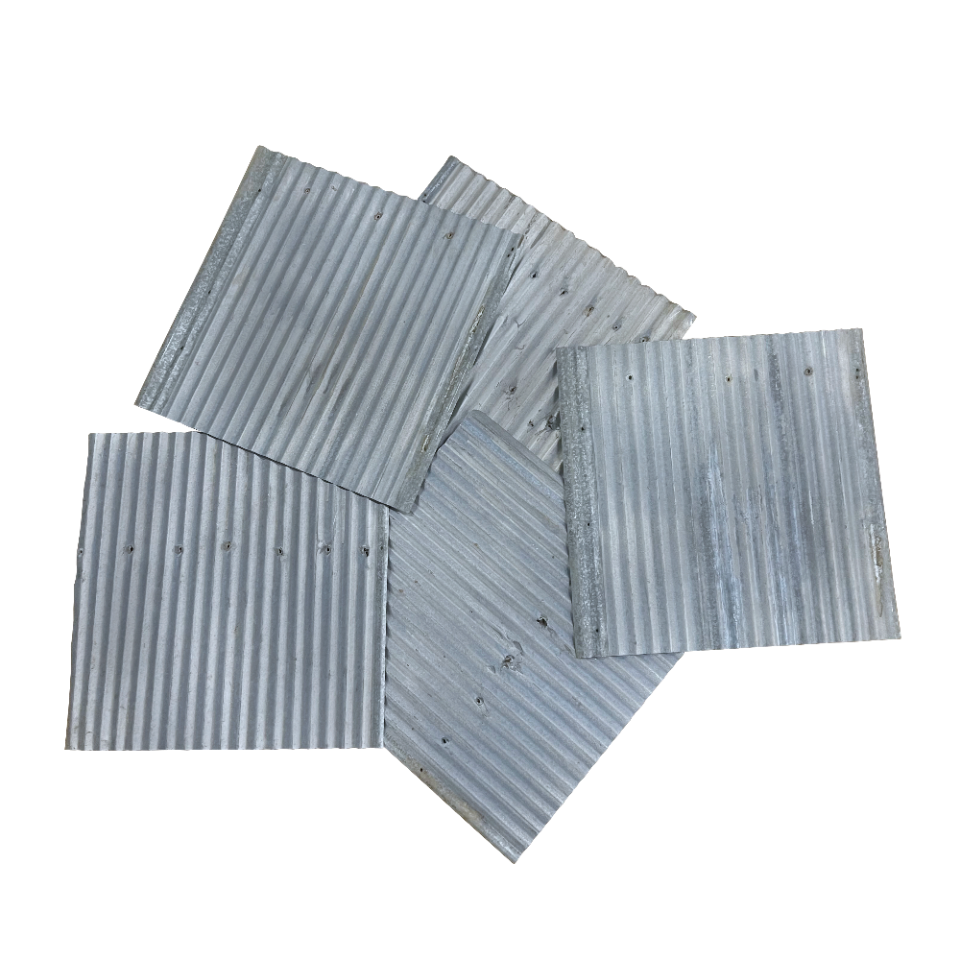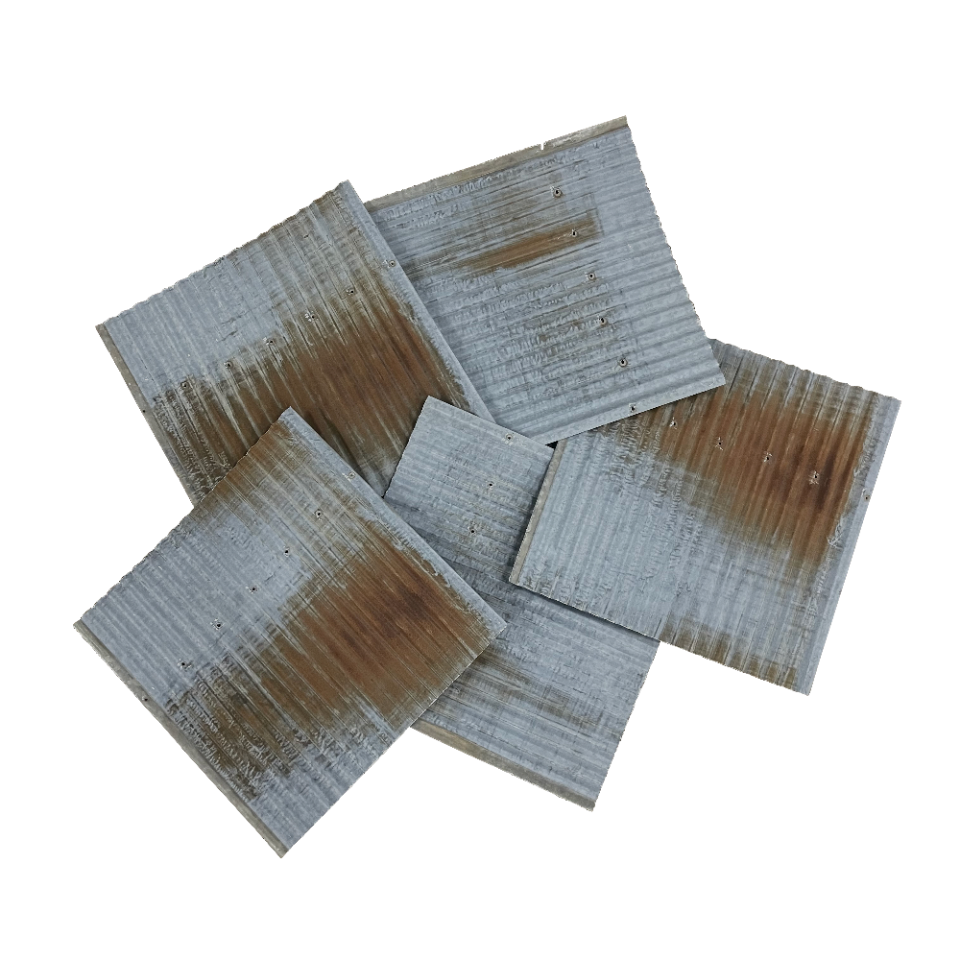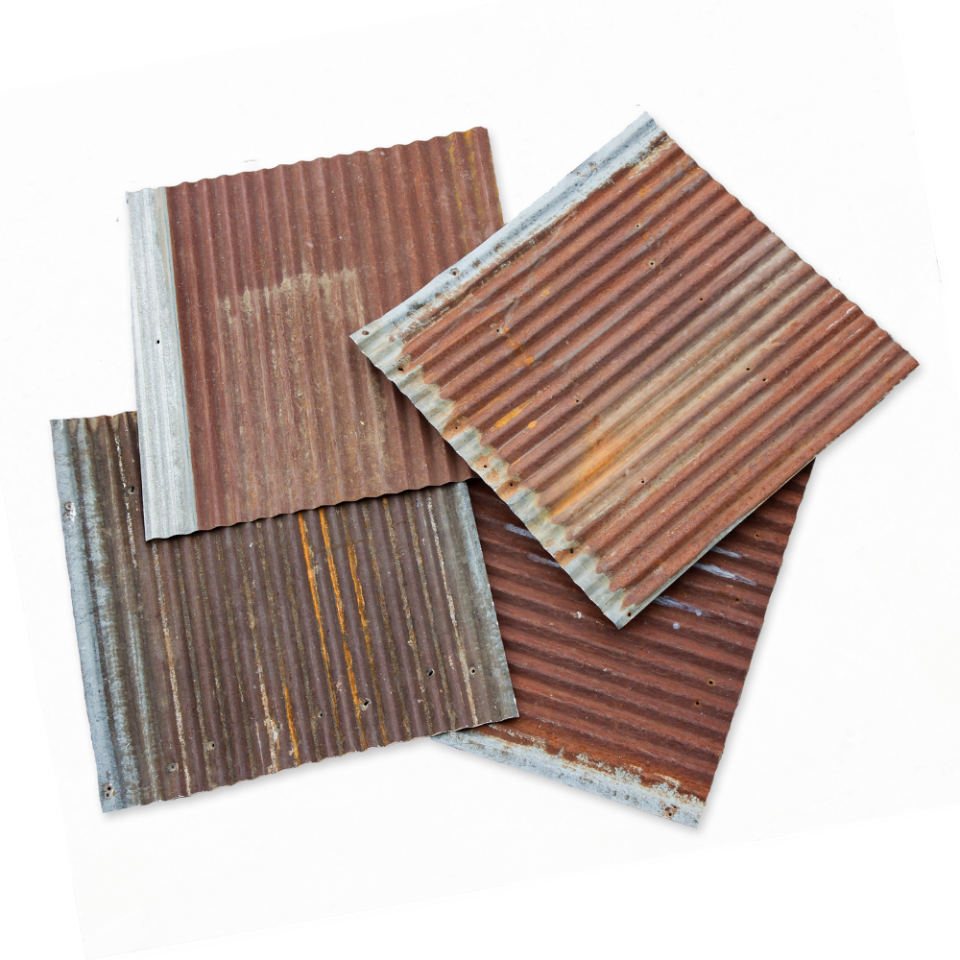 Get Design Inspiration
View our online gallery of projects to see customer design projects and get inspiration.
See how DIYers, contractors, interior designers, business owners, and home owners are our metal products on their ceilings, walls, landscaping, design projects, and more.
A Perfect Find!
I was looking for something to cover a dryer barrel and wanted a rustic look. I tried to rust my own piece of corrugated metal but it didn't work. Then I happened upon Dakota Tin. I ordered some samples which arrived quickly and then called to talk to someone for some help. The gal on the phone was so helpful and helped me find a product that would work for me. Couldn't be more pleased!!!!
Outstanding service
Dakota tim was so accommodating. I had ordered some of the incorrect material after I put my new order in they allowed me to return the incorrect product with a full credit. They also took care of the label and got my new material out to me ASAP. I wouldn't hesitate using Dakota tin in the future.
Very dirty but look great after cleaning
Tiles arrive very dirty, I feel like when you spend 3600.00 you shouldn't have to clean mostly every tile. But after taking a brush to get the dirt off and the spiders and the cob webs they do look great!
Home Project
The barn tin ceiling tiles were exactly what I expected and needed for my home project. I was very pleased with the product.