Regular price
$38.99 USD
Sale price
$33.99 USD
Unit price
per
Sale
Sold out
Order A Sample Of Colorado Steel Here
Long strips of steel metal landscape edging with hemmed edges provide style and safety for gardens, lawns and flower beds. Add rustic, industrial contrast with this corrugated metal garden border. 
Visit our gallery for examples of how metal edging is being used in gardens and lawns. 
About Corrugated Steel Landscaping Edging
Price listed includes one piece of garden edging (select size above)
Available in

 all three 

Colorado Rustic 

Patinas

Approximately 10' in length
Hemmed edges provide a softer, safer product

100% satisfaction guarantee with all Dakota Tin products. You'll find exceptional customer service from an all-American company.

**Real metal edging - leather gloves required**
Stakes and screws are not included.
Why Colorado Rustic Steel Garden Edging products are so unique
After receiving customer feedback about the need for a more consistent design - free of nail holes or warps - that still had a rustic feel, Dakota Tin introduced the Colorado Rustic Steel collection in 2019.
Corrugated Metal Landscape Edging Style Options
All of the patterns or styles from the Colorado Rustic Collection have a more consistent, uniform color pattern and have less contrast compared to the Dakota Tin Collection.
Rusted: Pre-rusted and created with an all-natural, accelerated rust treatment. Because the solution is spray applied, rust is more evenly distributed, the result is a more even coat of copper rust color, but still with small variations of blues and greys that you'd get from the antique galvanized style. 

We start the rusting process, but if you'd still like more rust, learn how to increase the amount of rust

 

here.
We recommend sealing this style with a clear coat, as the rust finish can rub off. Here is how to clear coat Rusted products.
We recommend not burying the rusted edging in the ground, as various soil types reduce the life expectancy of the material.

Galvalume:

 

New galvanized steel, light silver, semi-sheen. NO RUST or color variation.
Antique:

 

Antiqued steel, dark grey look, weathered, flat texture. NO RUST or color variation.

 Finish wears with time (

can produce white rust with exposure to moisture), will continue to age with exposure and may scratch.

Finish wears with time (

can produce white rust with exposure to moisture), will continue to age with exposure and may scratch.

We recommend sealing this style with a clear coat for high-wear areas or where oils can get splattered, since it has a more porous surface.
Share
Shipping & Returns

FREE SHIPPING within the continental U.S. when ordering 3 or more items (excludes custom orders, J-track, trim pieces, and large panels).
Shipping outside the continental U.S.? Contact us for a quote.
For information on Dakota Tin's shipping & return policy, visit the Shipping & Return page.
View full details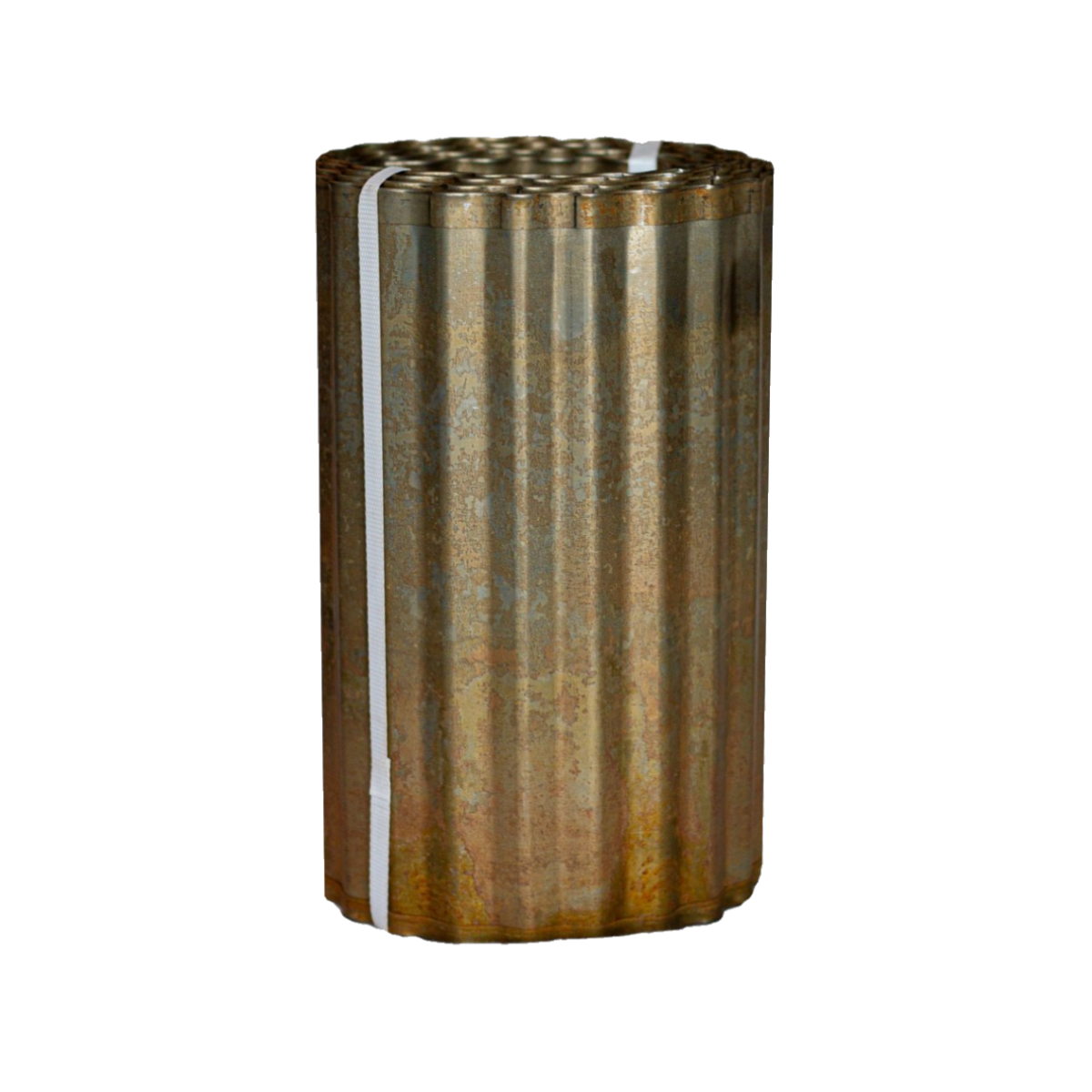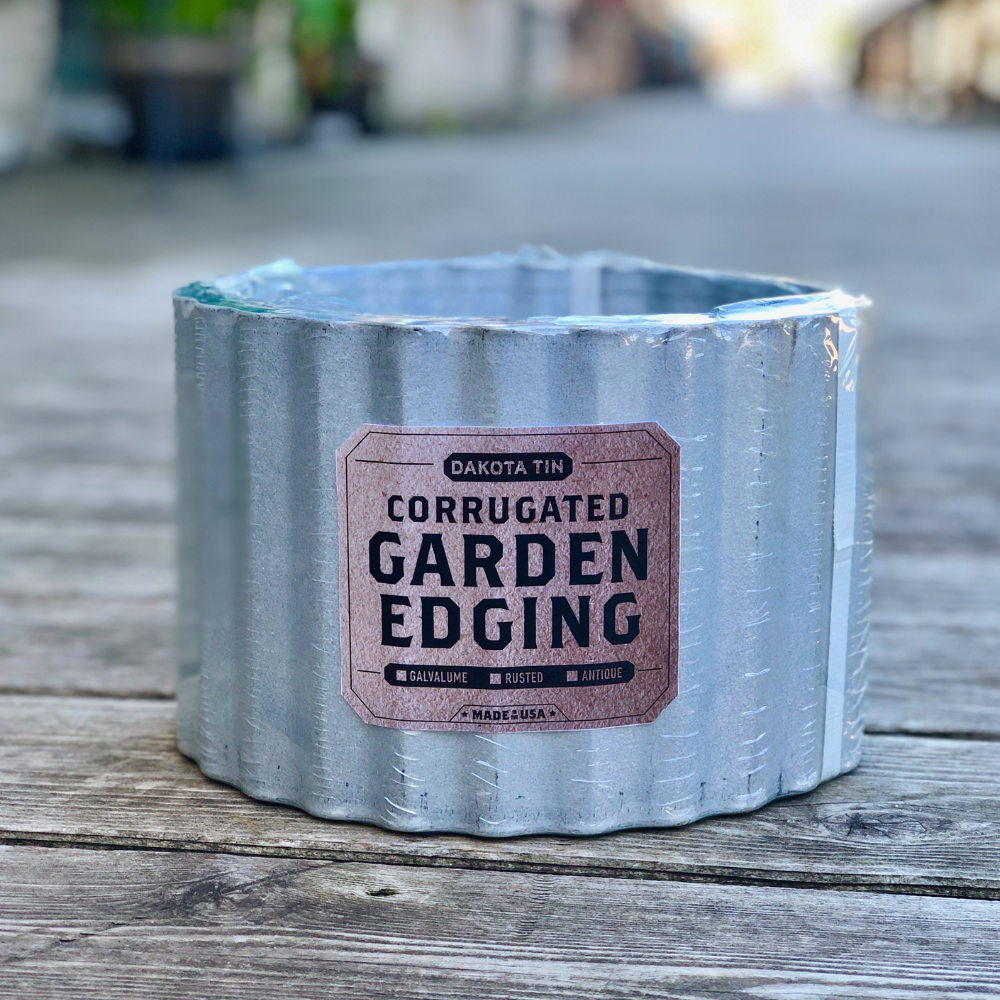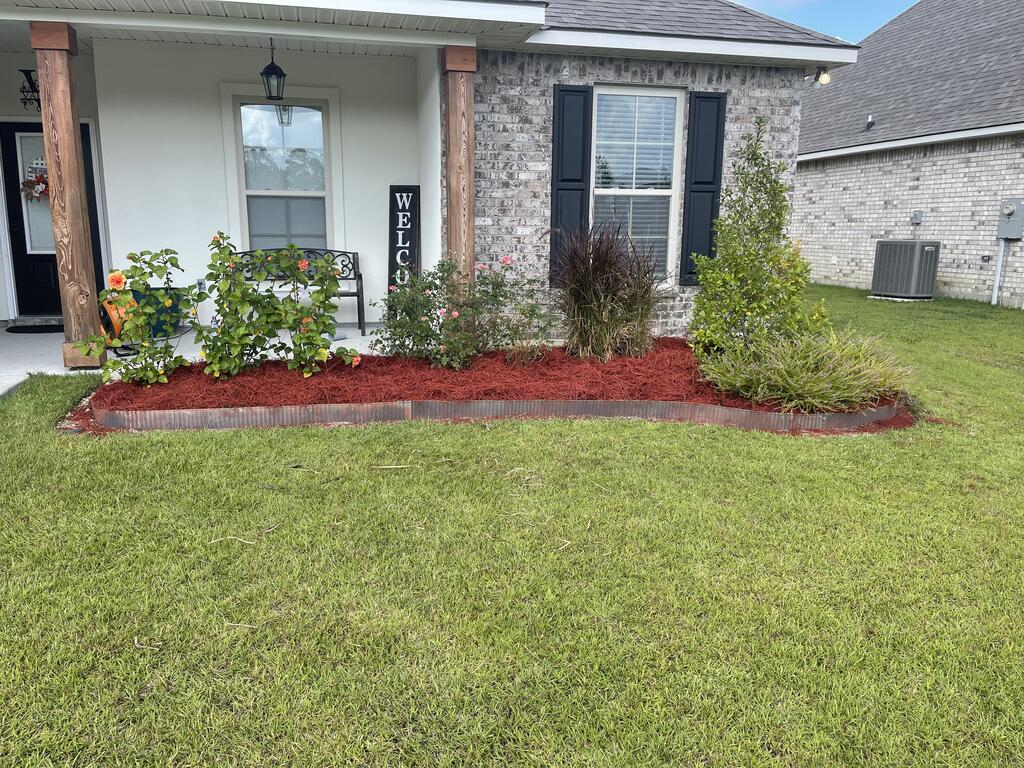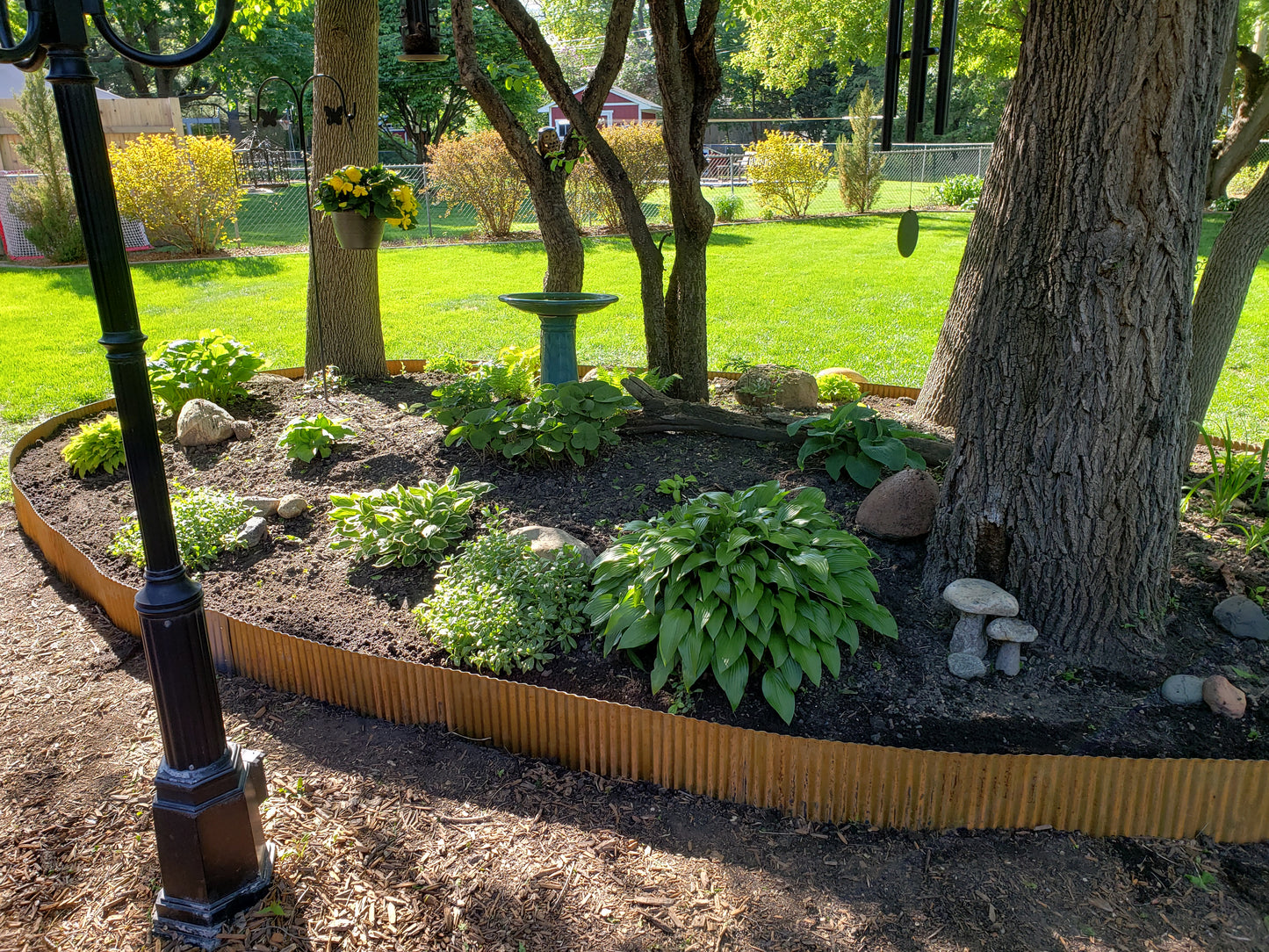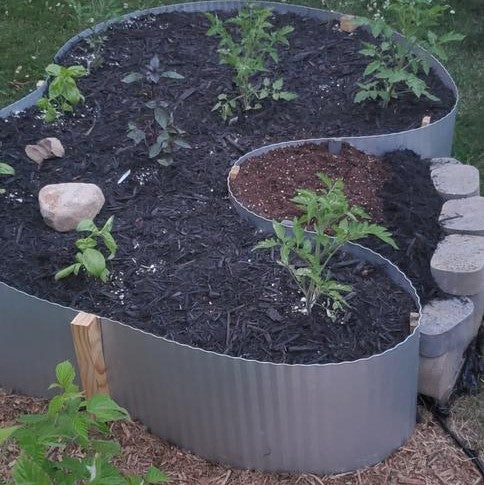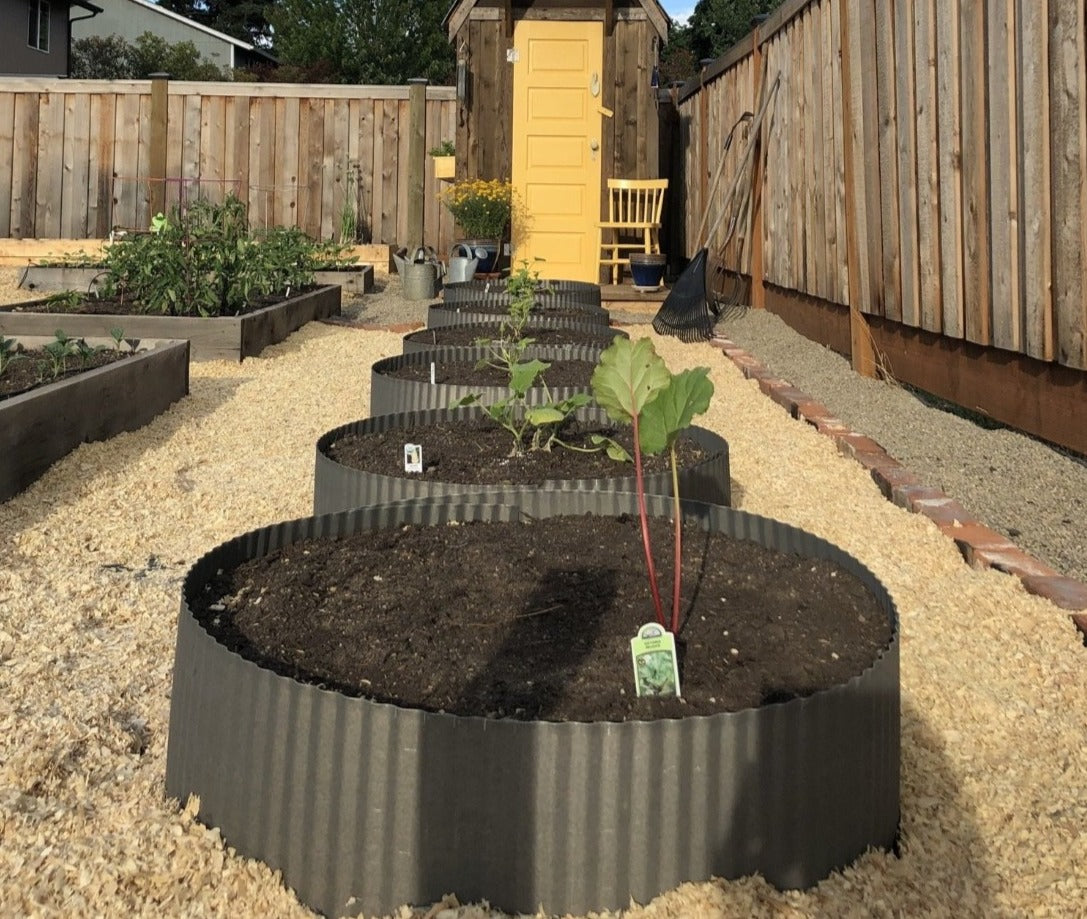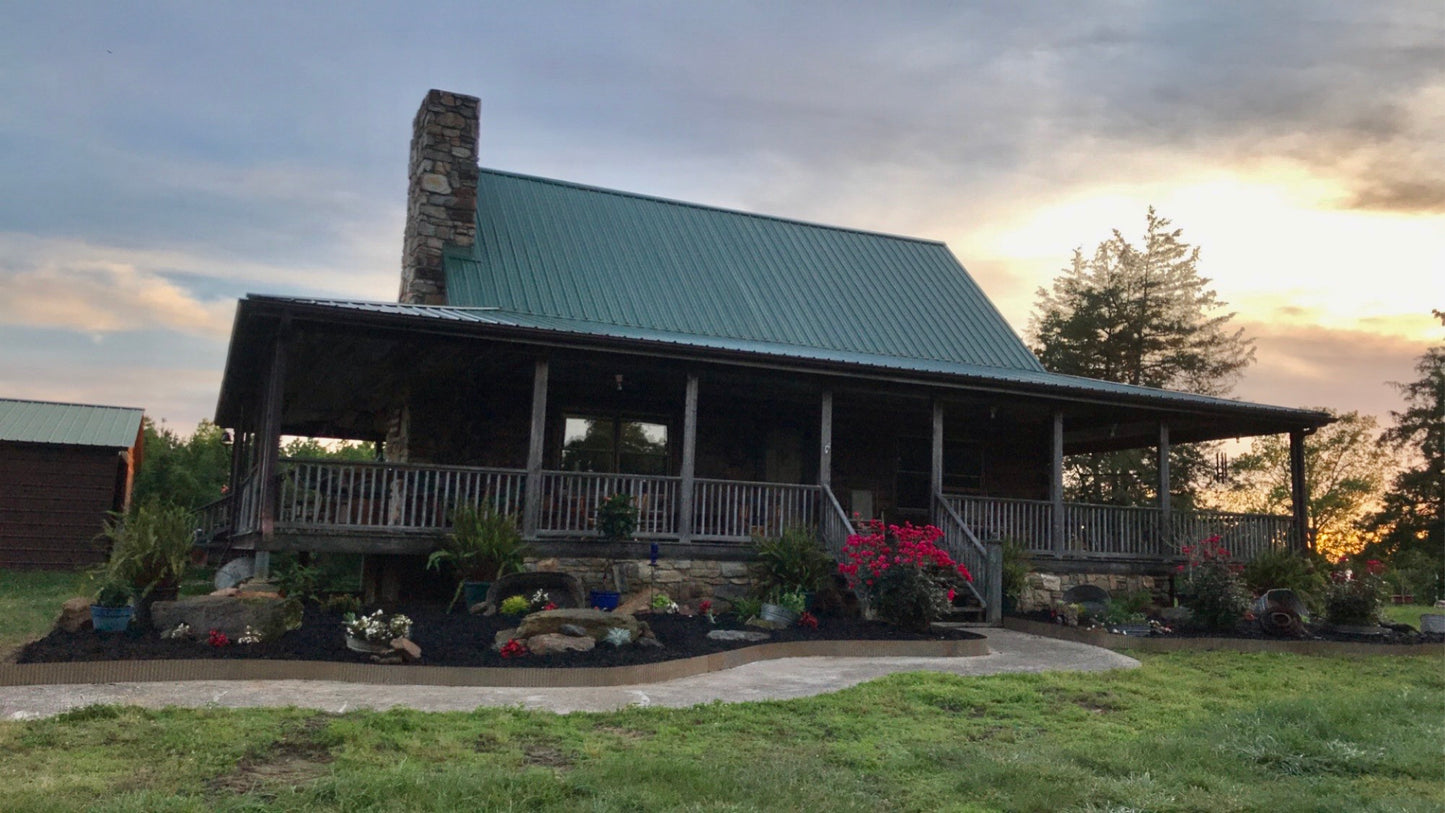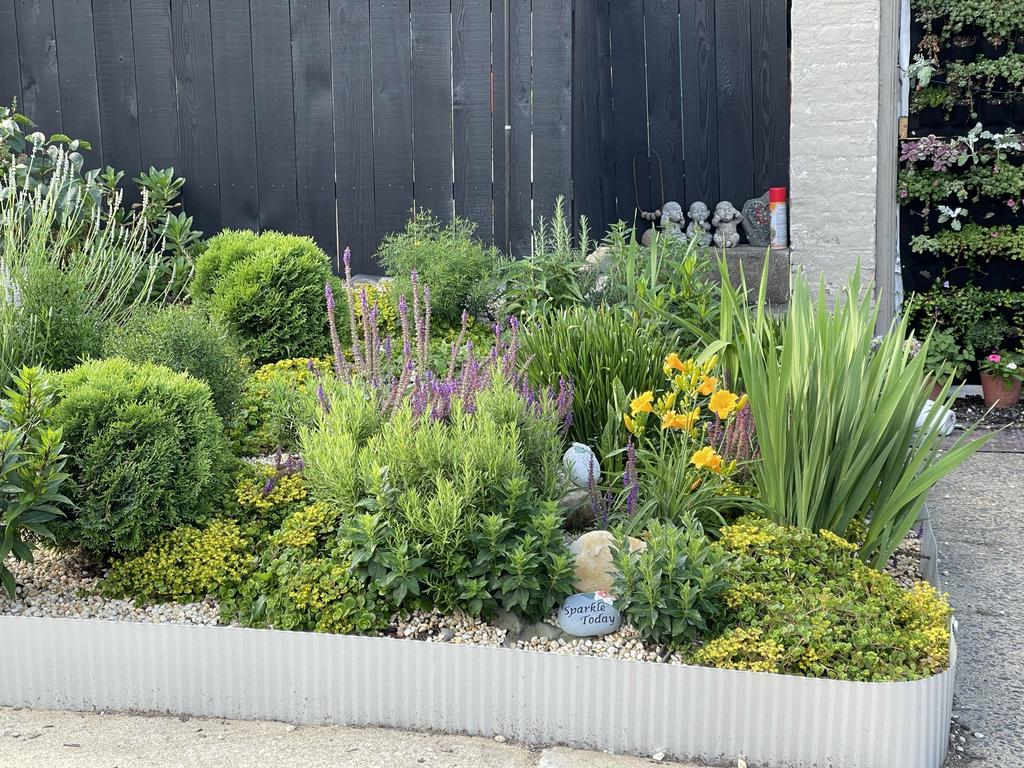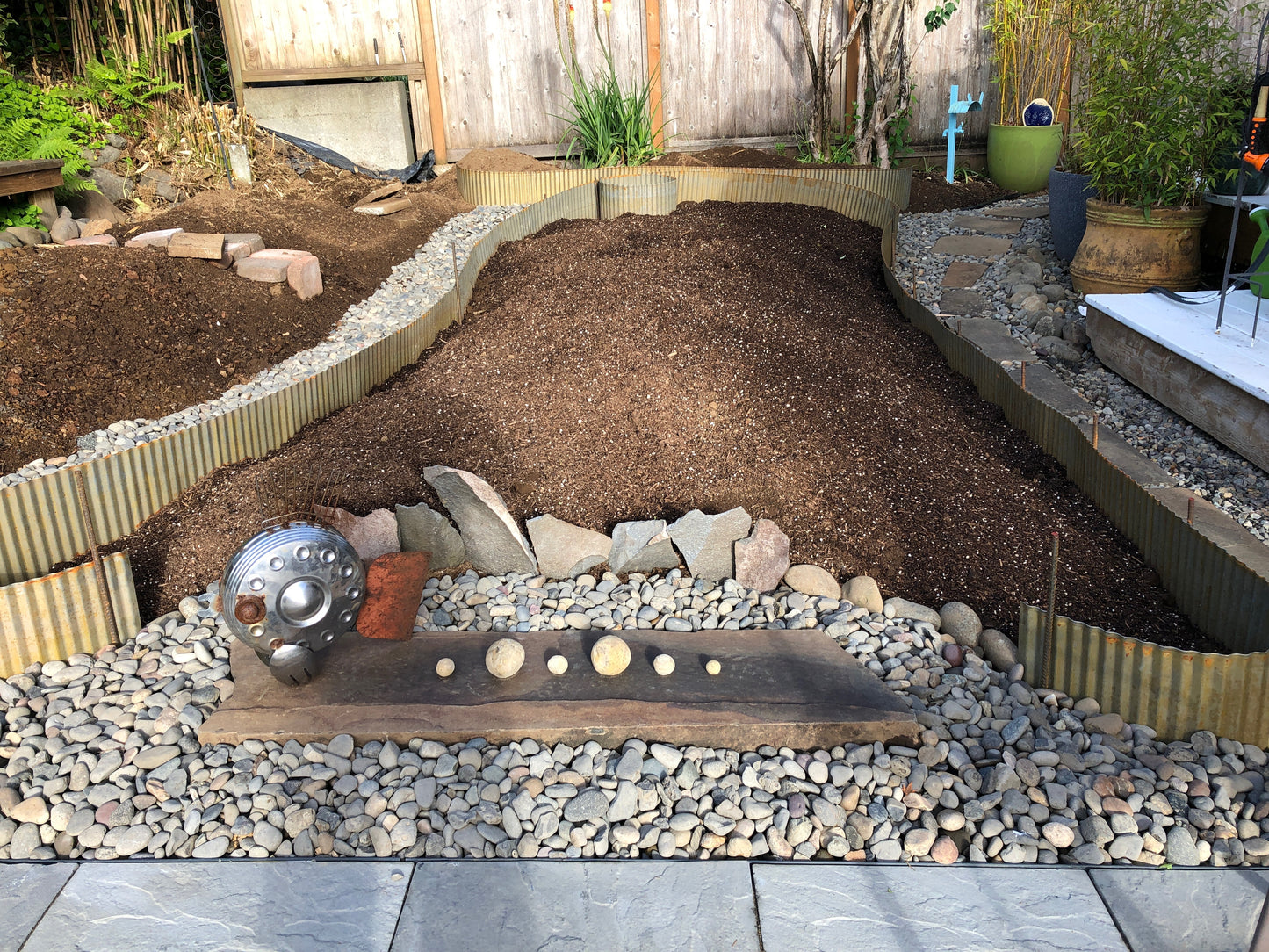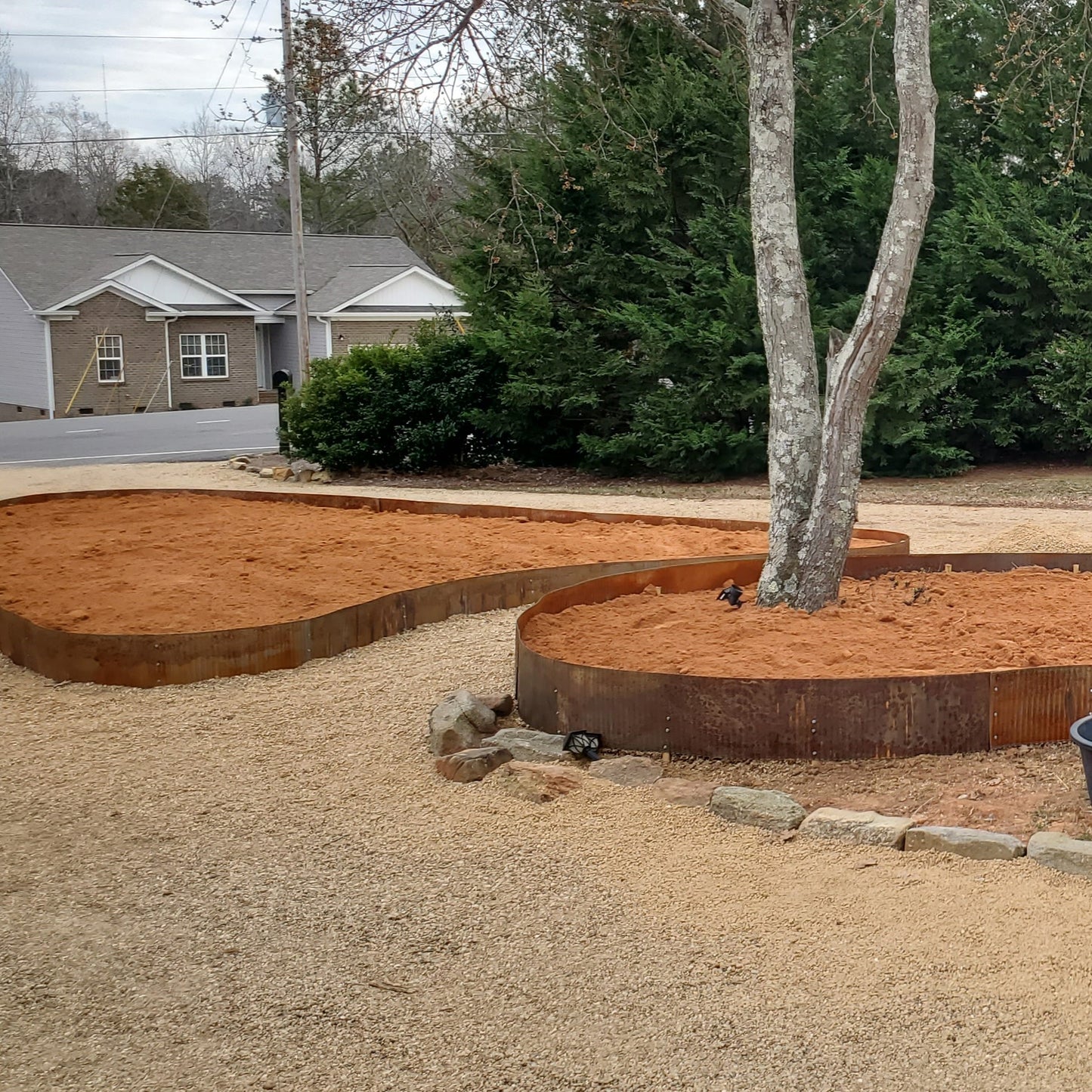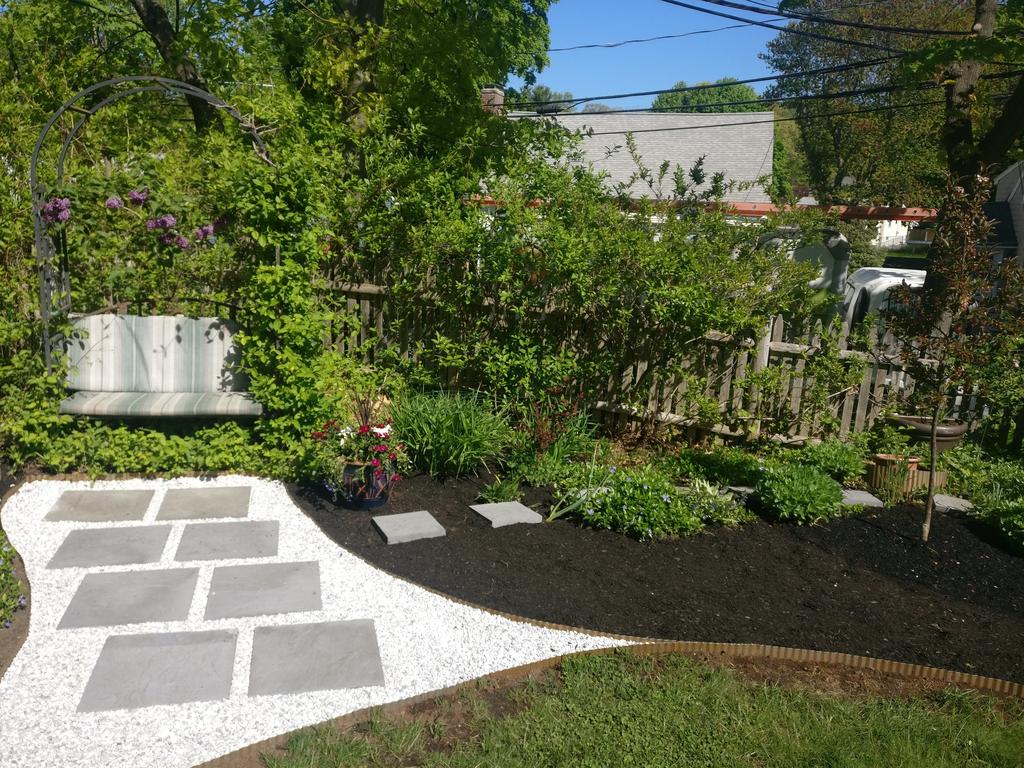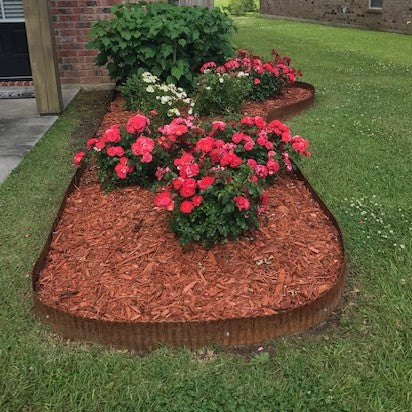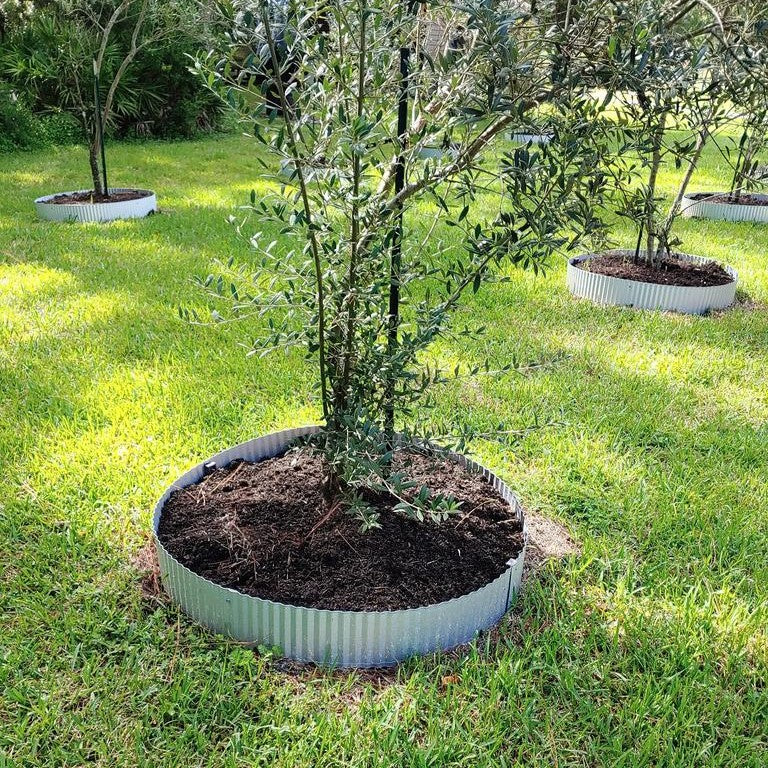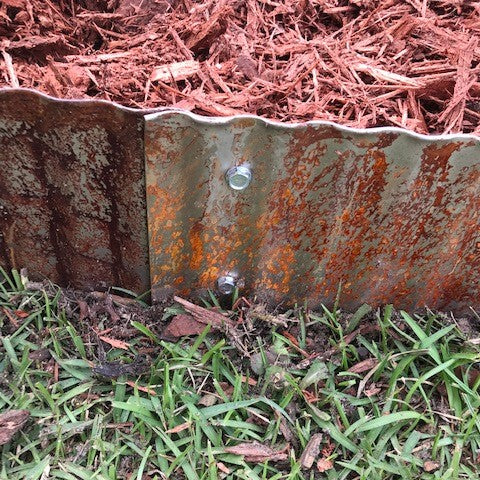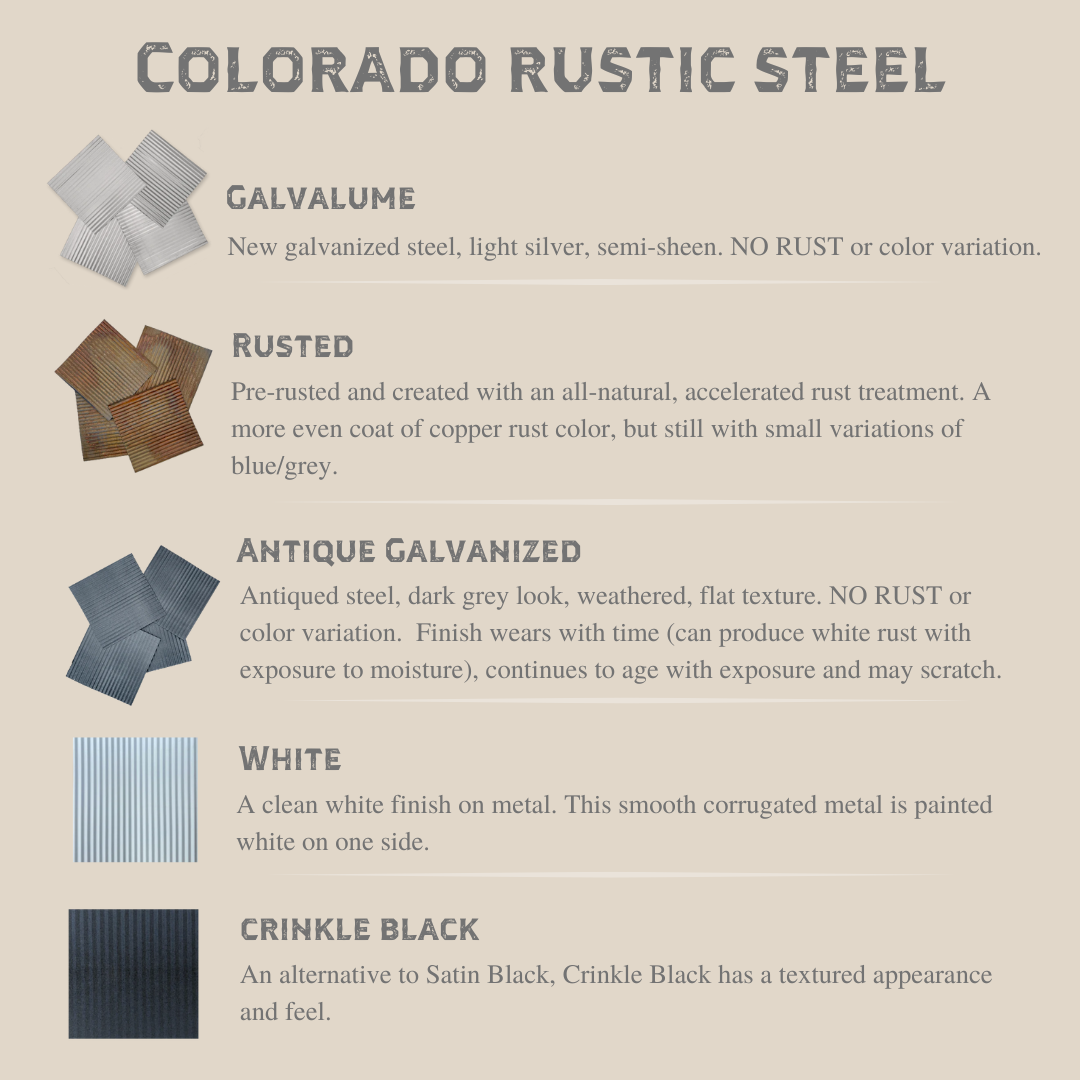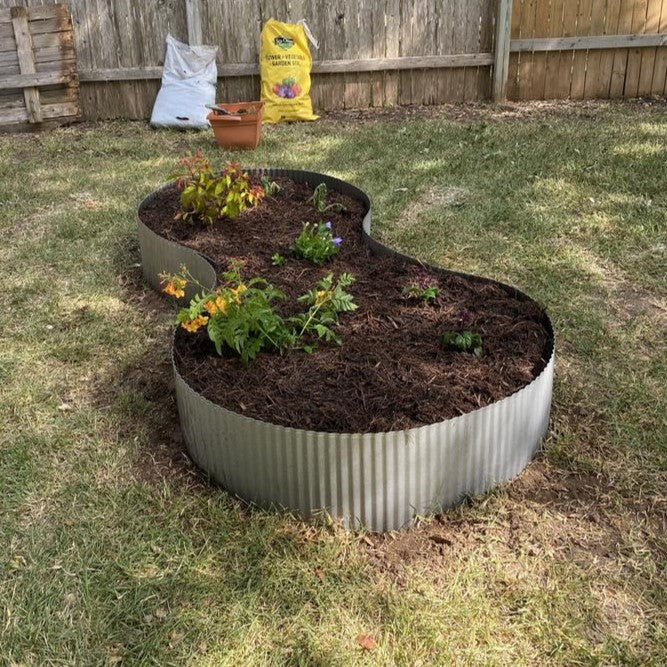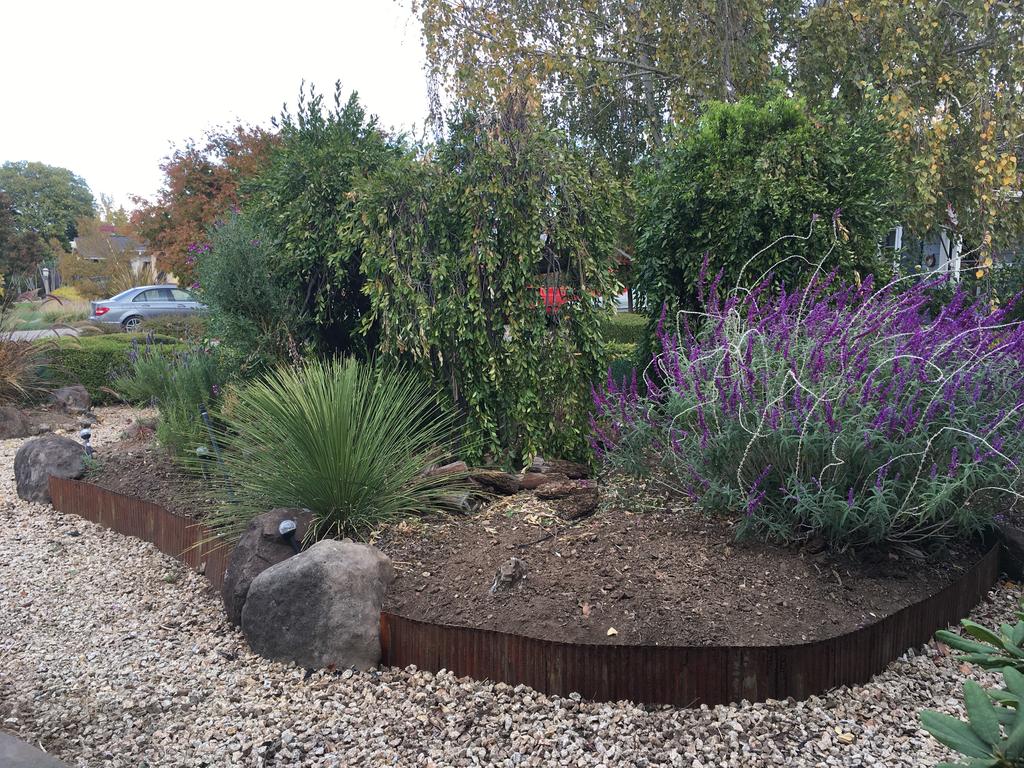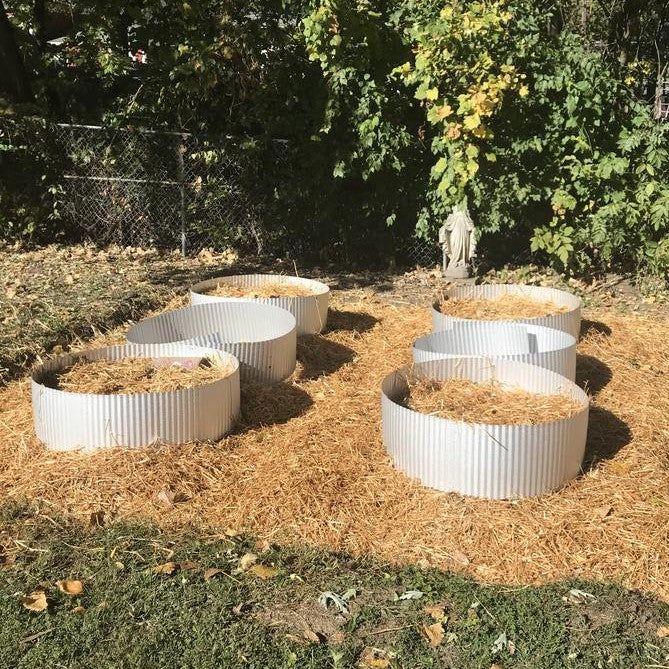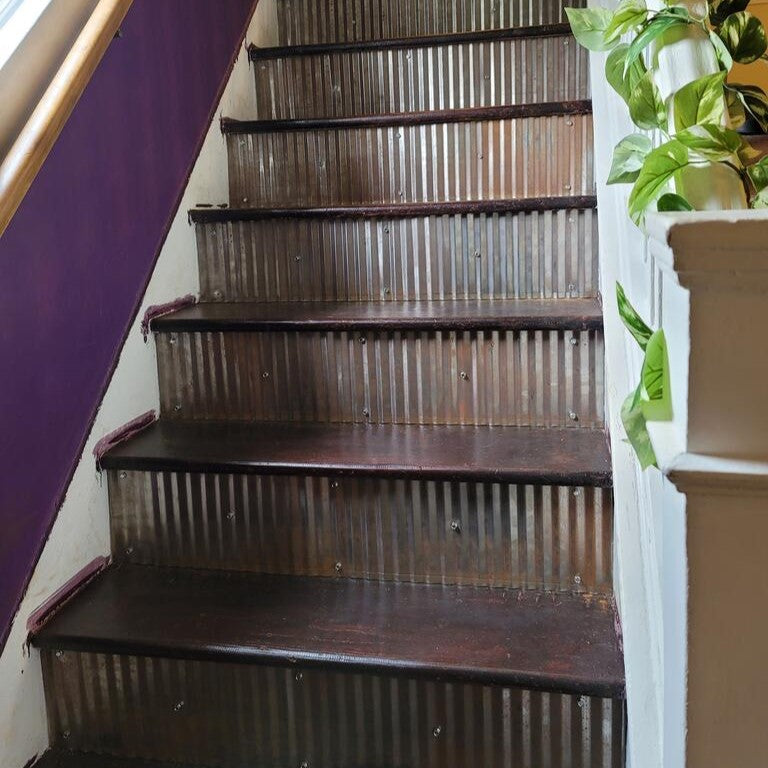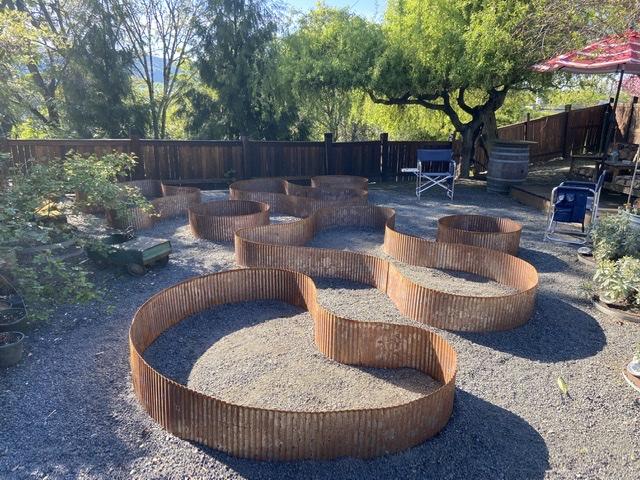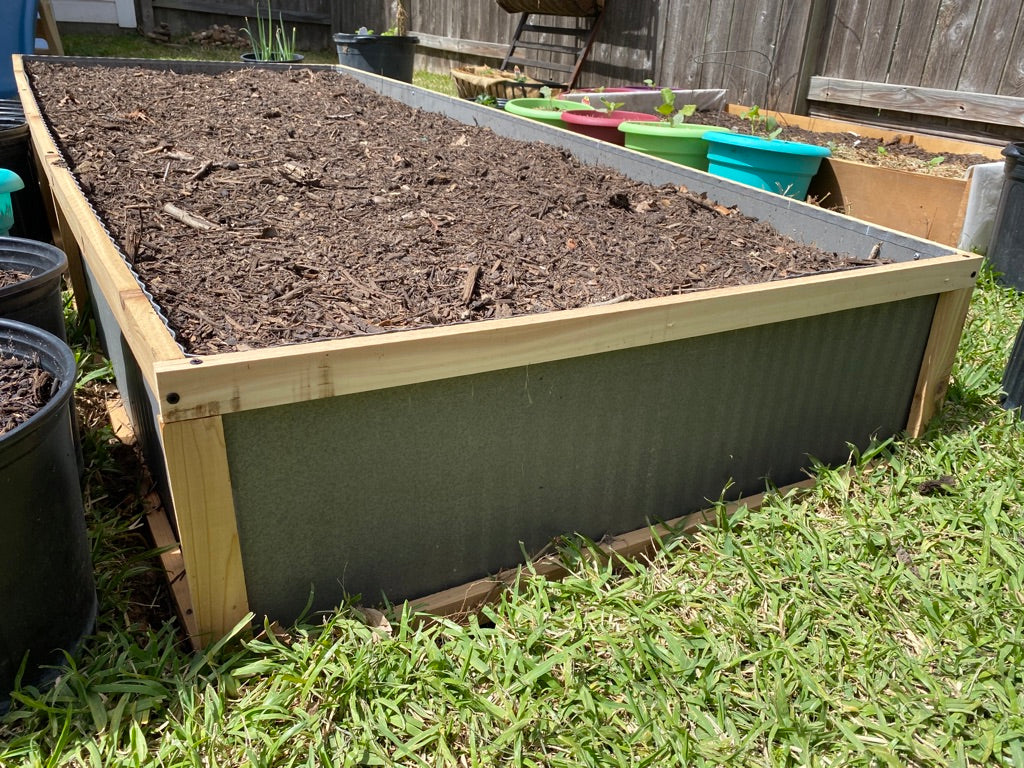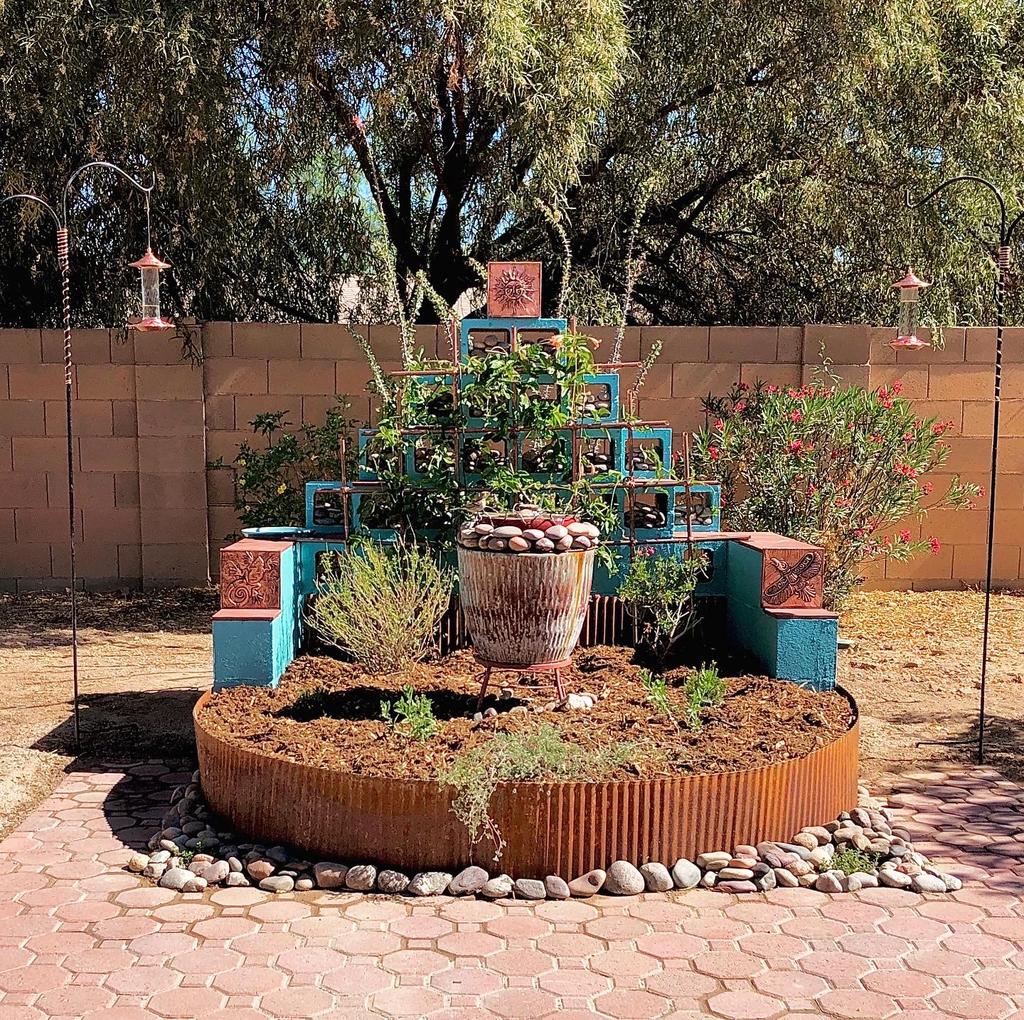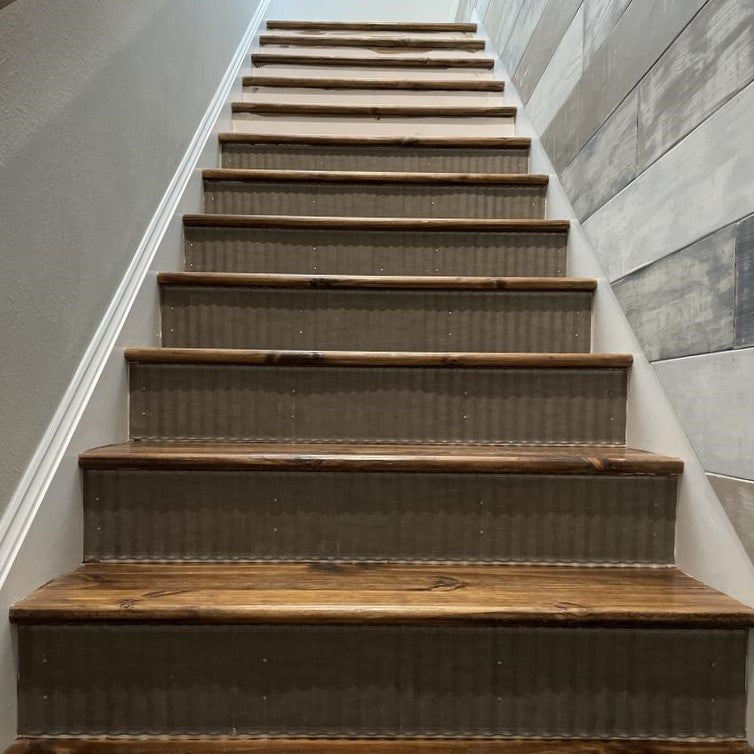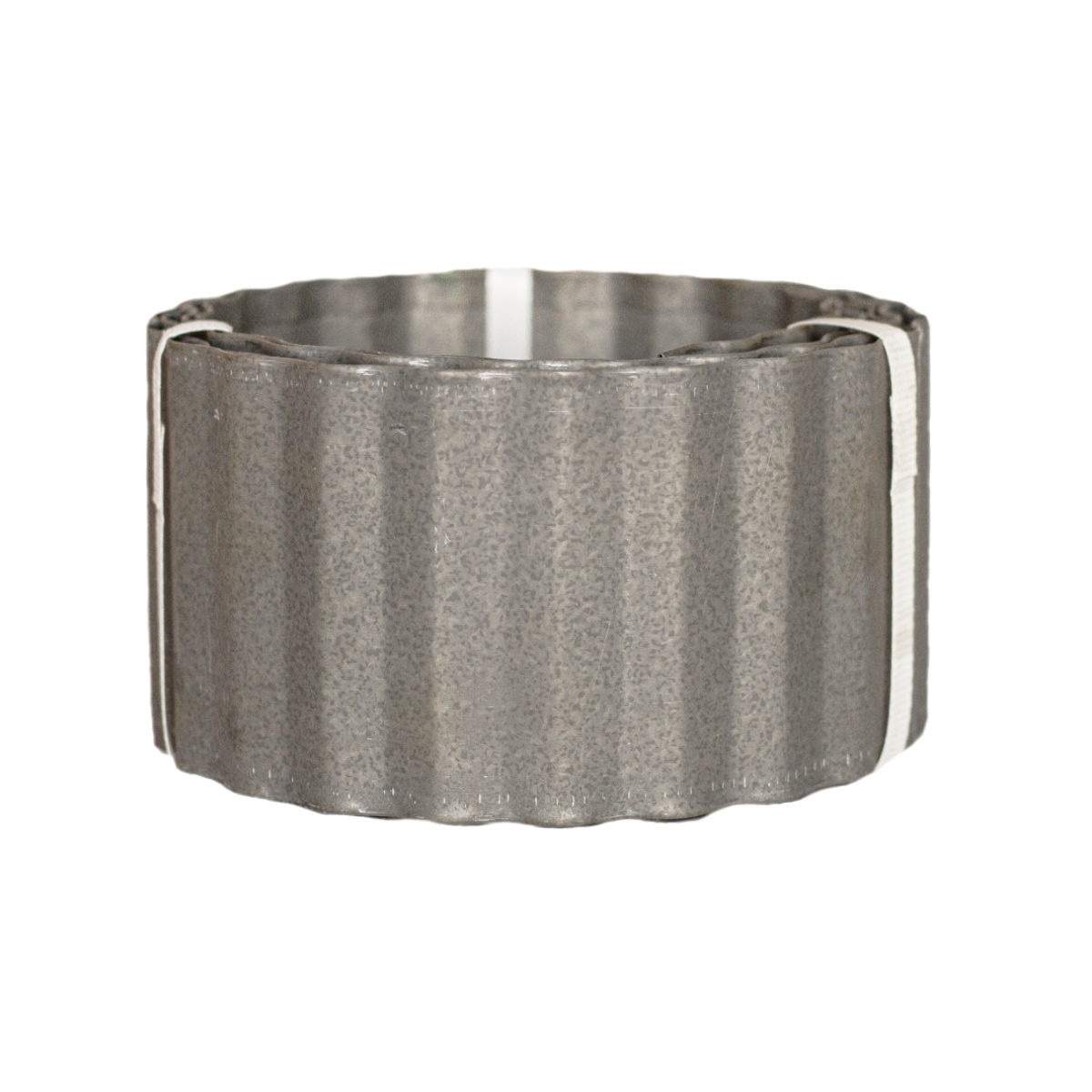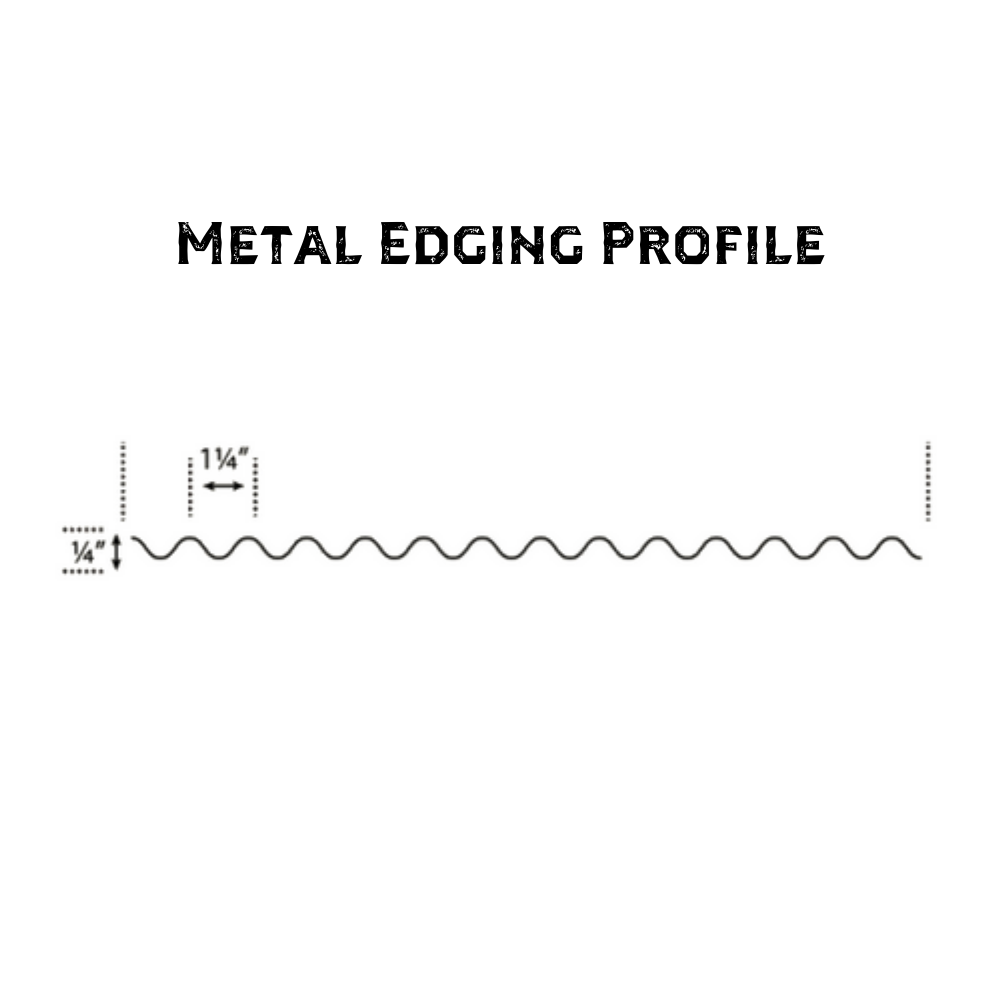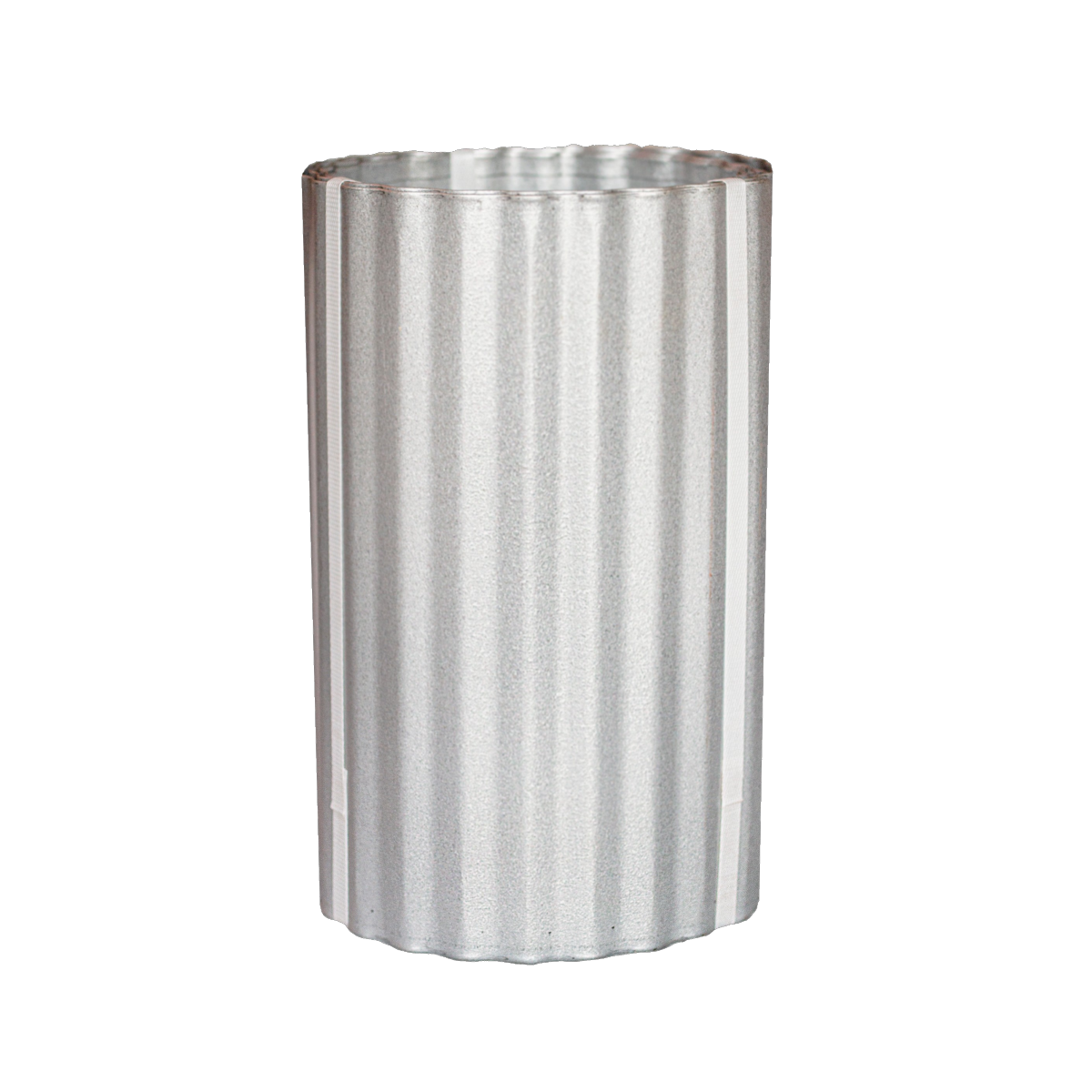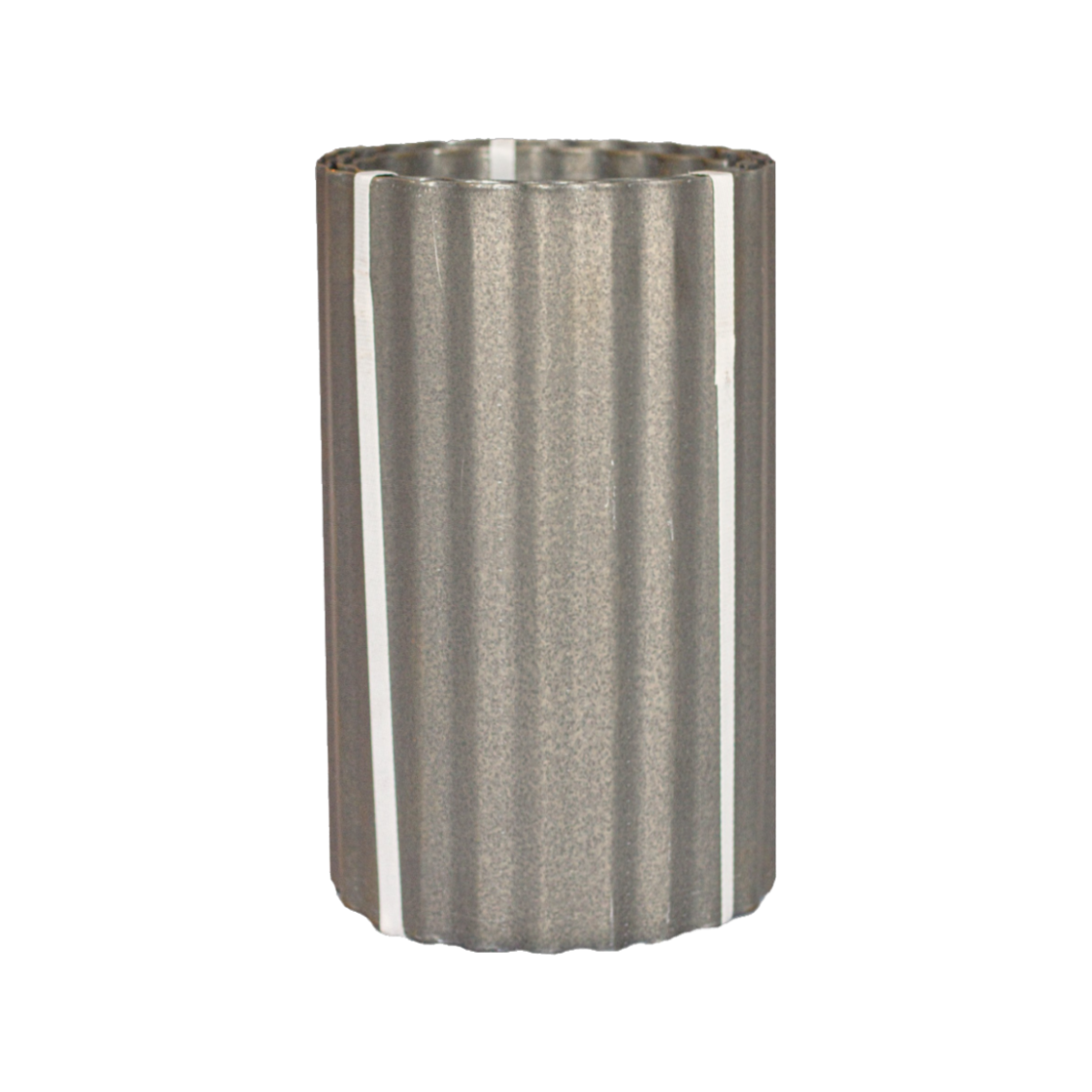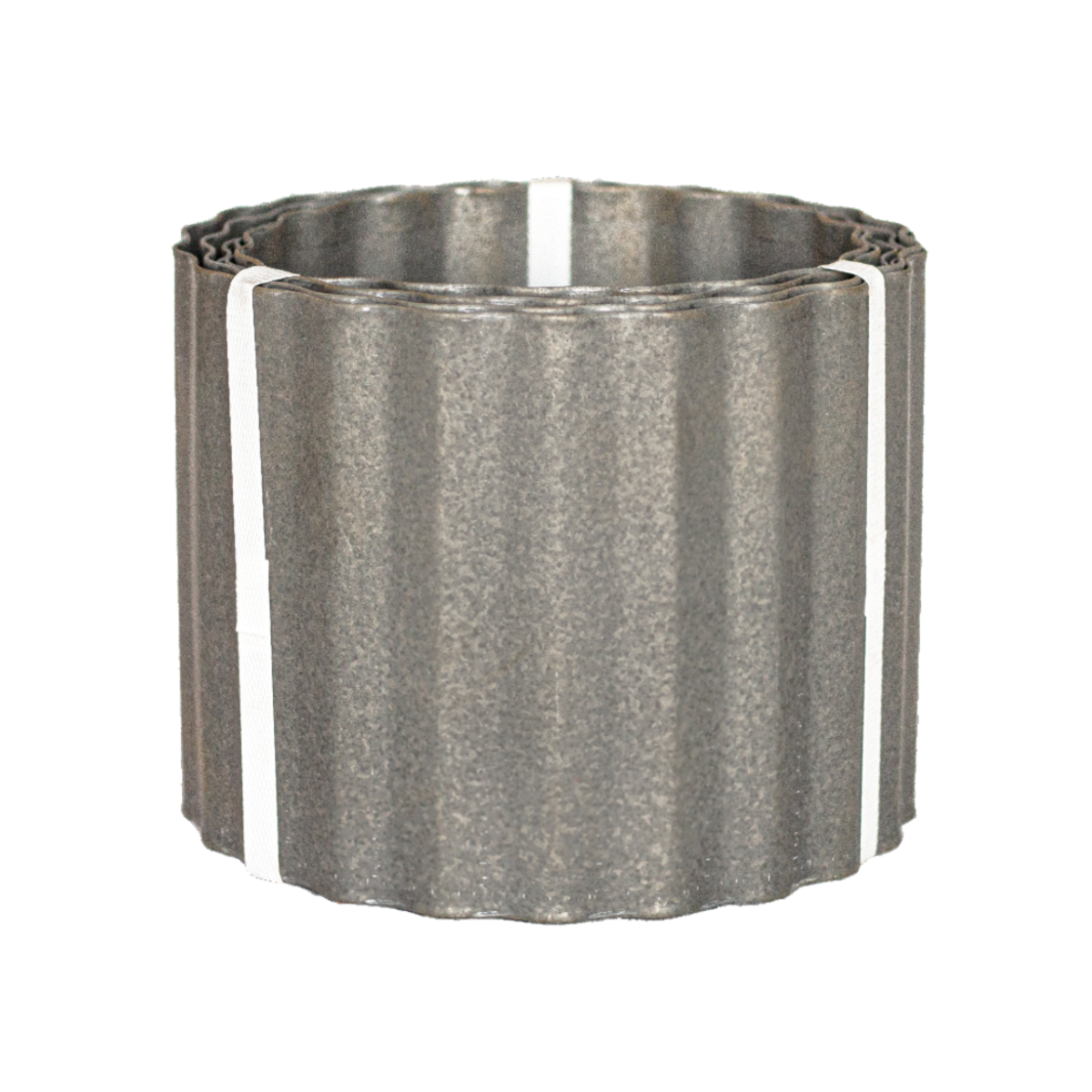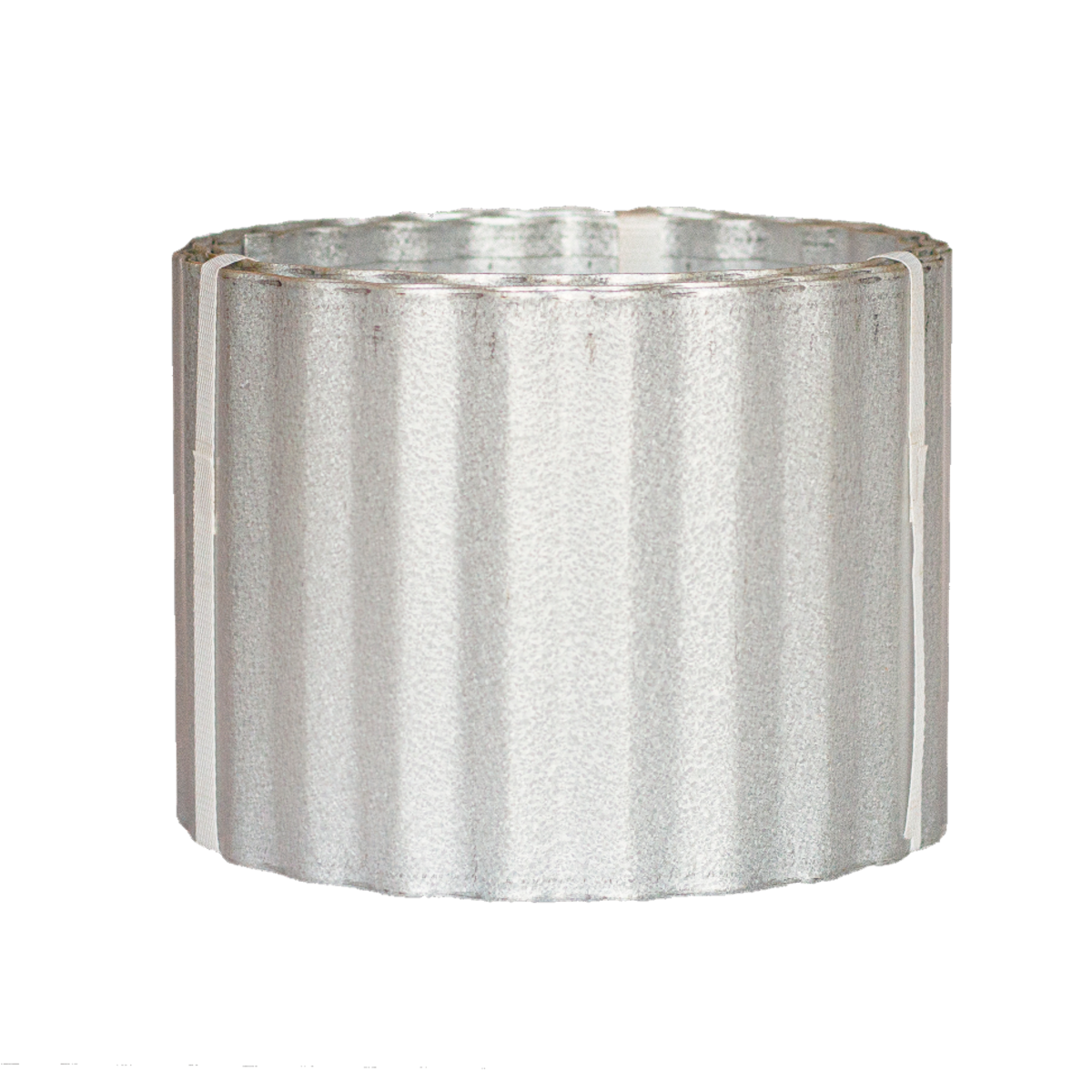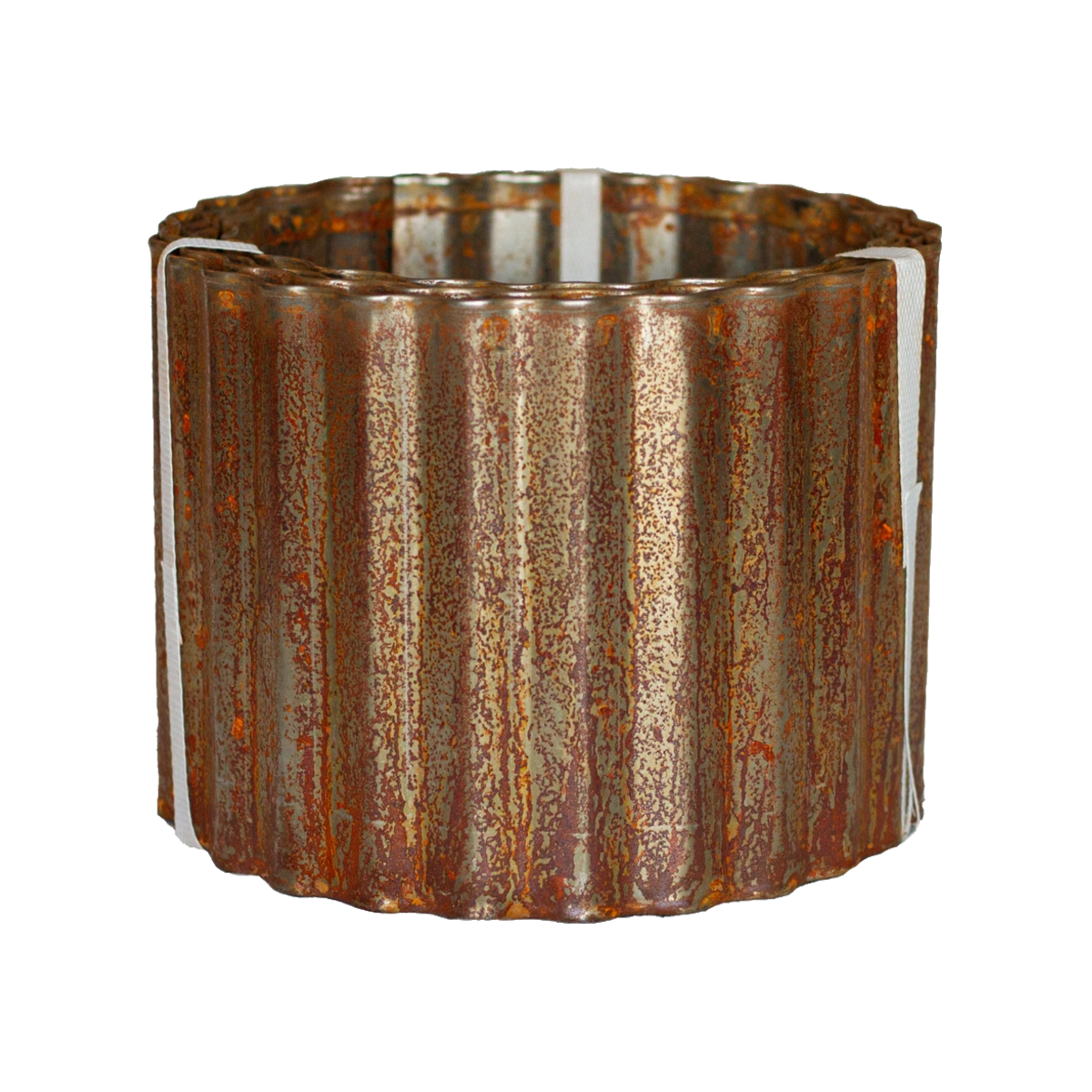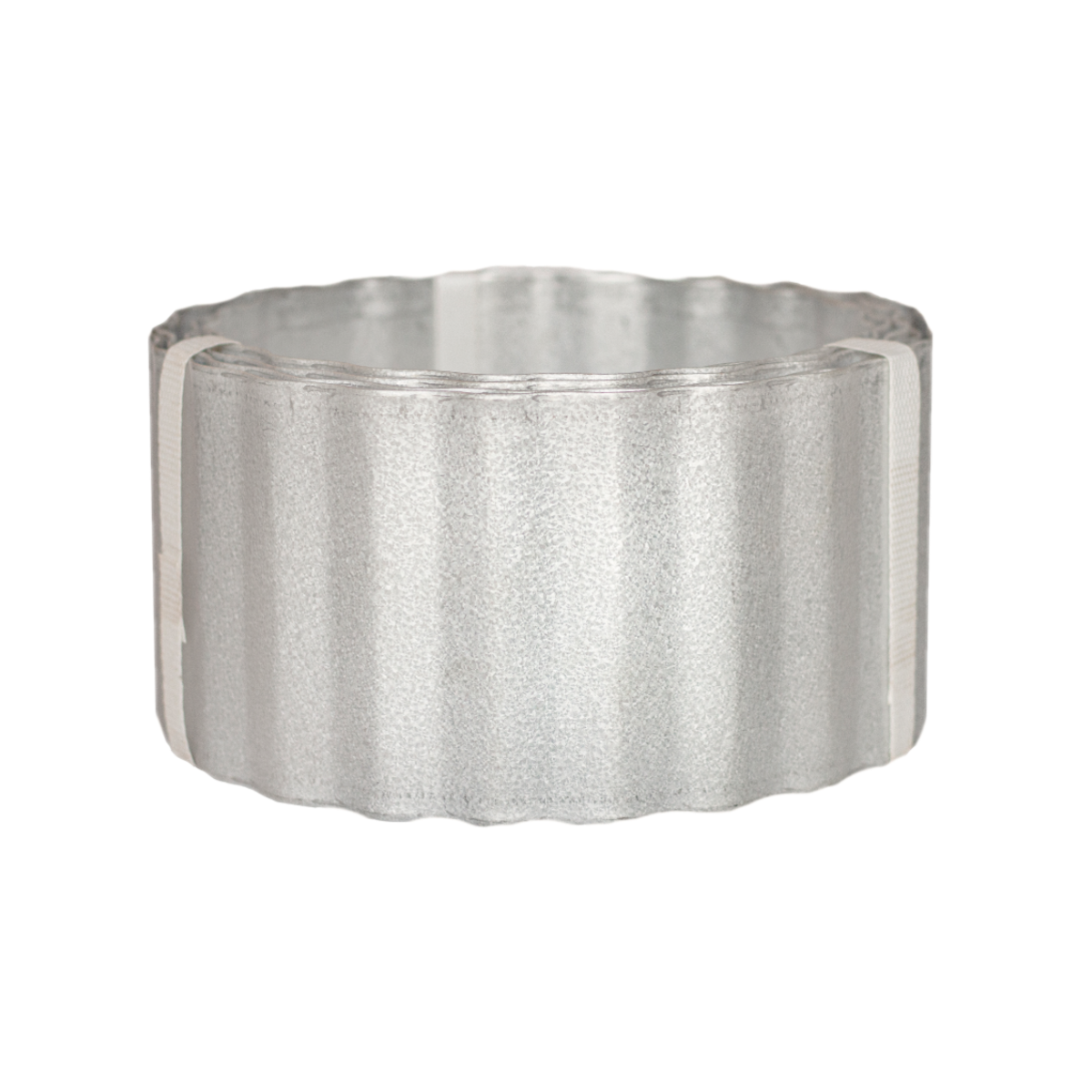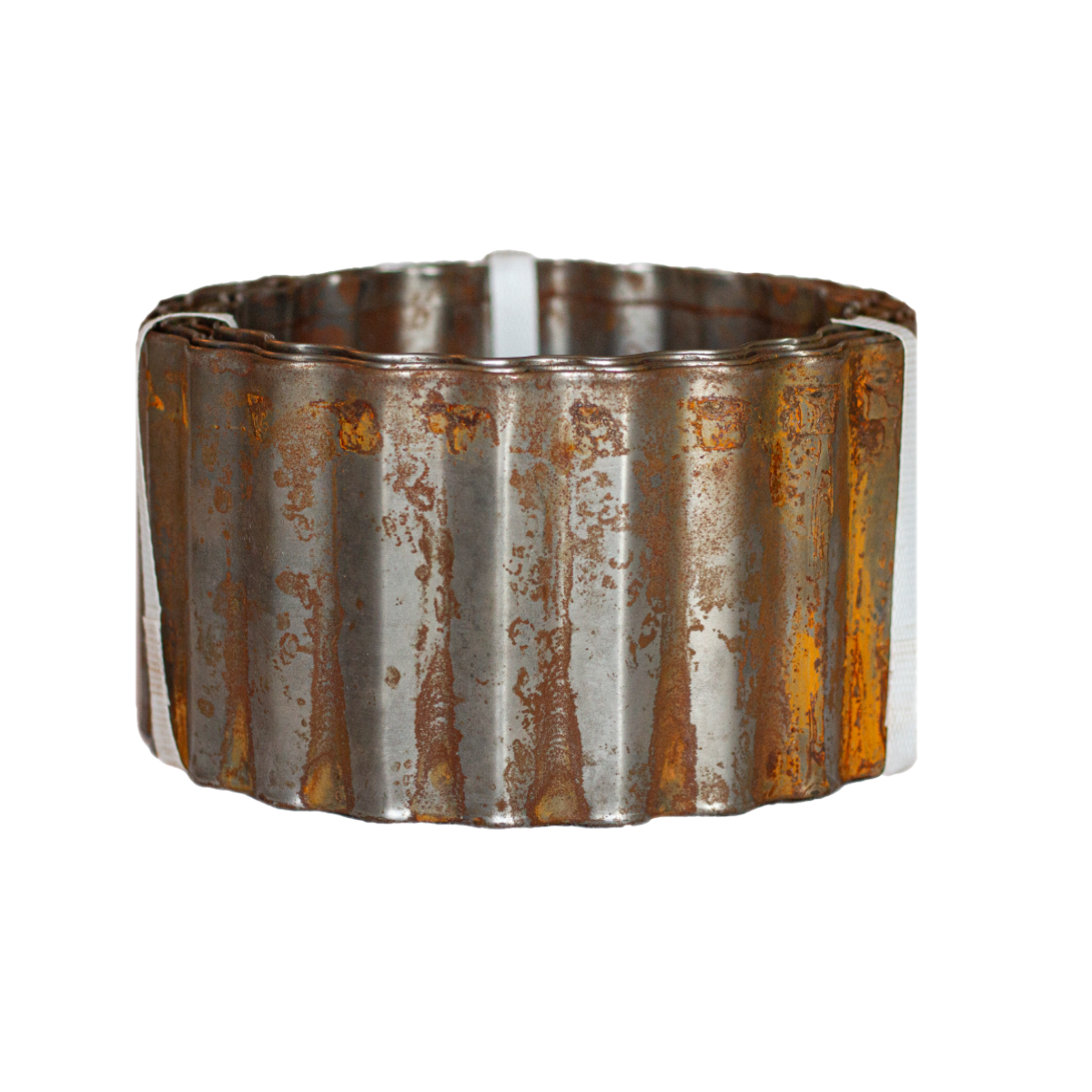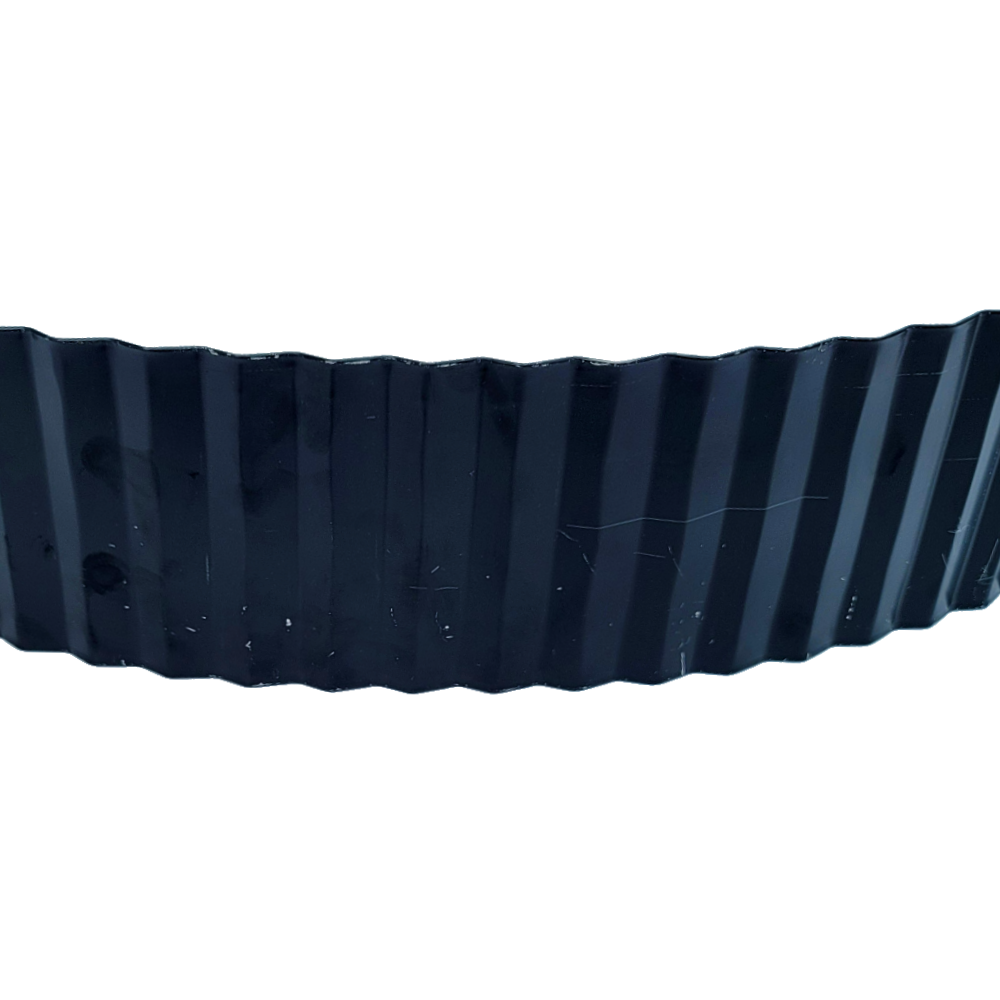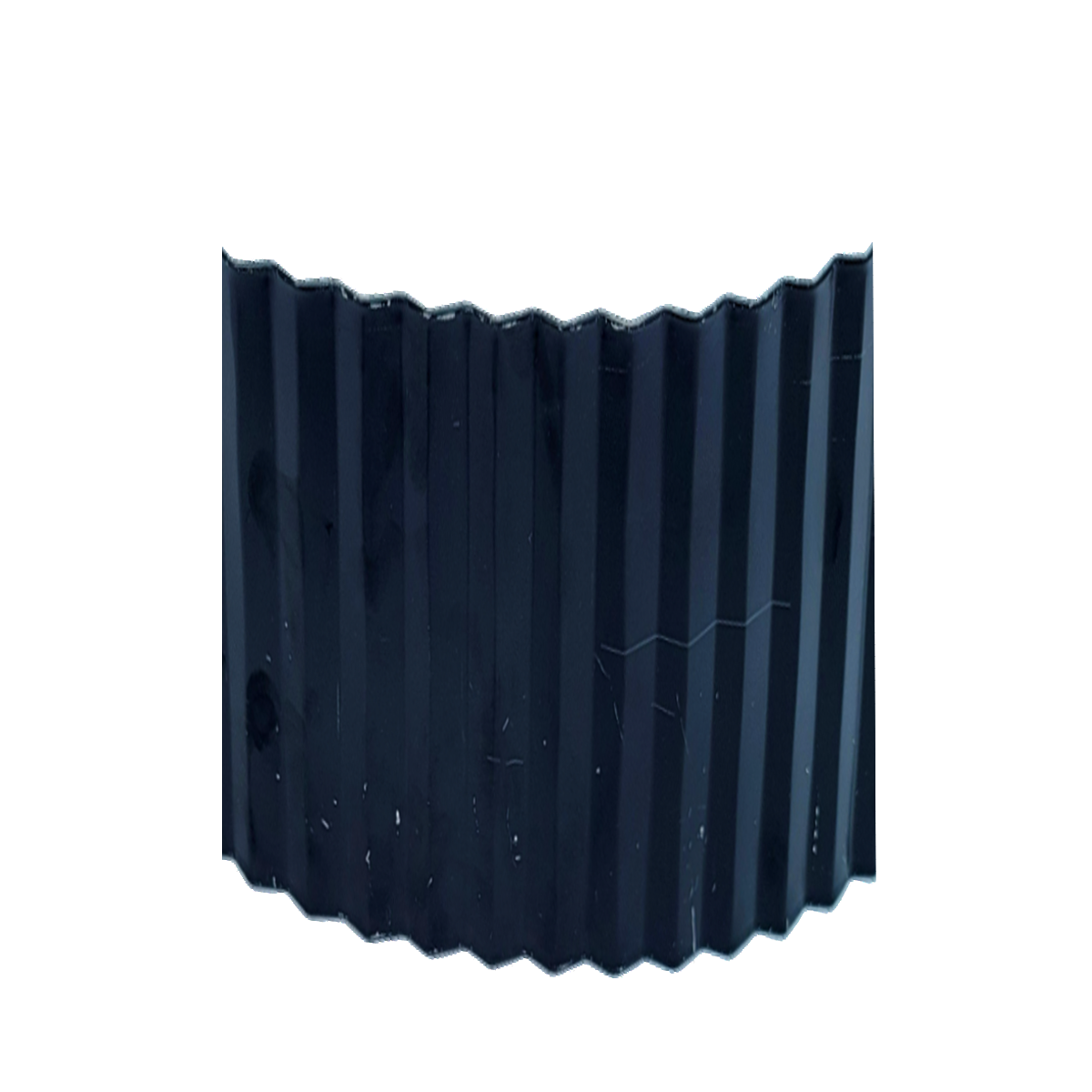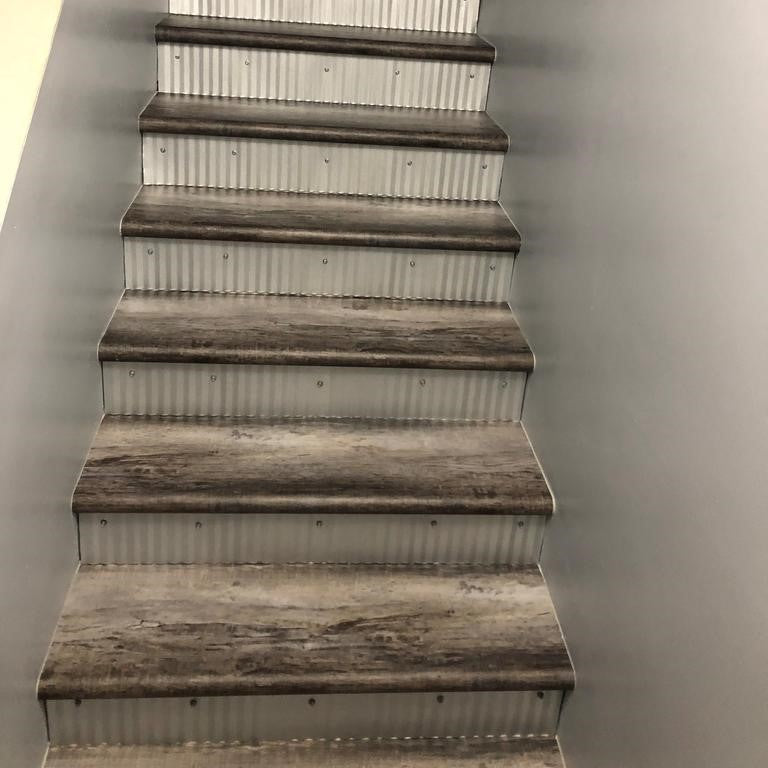 Get Design Inspiration
View our online gallery of projects to see customer design projects and get inspiration.
See how DIYers, contractors, interior designers, business owners, and home owners are our metal products on their ceilings, walls, landscaping, design projects, and more.
Fantastic edging
Using the Garden Edging to form 2 large ovals, we created beautiful raised beds. We're still in the process of planting but it's looking so nice already.
Stout!
We received the tin. It's very stout and should hold the soil where we need it.
I am a little disappointed in the aged look. Not very aged looking. But quality is great.
Not yet
I haven't got to it yet. I just purchased this house and I'm doing some fairly major landscaping projects. I don't think anyone but myself has an idea of how nice this is going to turn out. Your material is much nicer than I expected. I'm very fond of the way you finish the edges. No way it would come out nearly as nice as that if I was using some sort of Roof iron… which is what I had planned on. Basically what I am doing is using your material as the face of a planterr that's adjacent to a sidewalk over about 75 feet in length.
Extremely pleased with the product. Used it for two separate applications and it worked very well on both. Product can be used a number of different ways, easy to install, happy with the purchase and will use again.